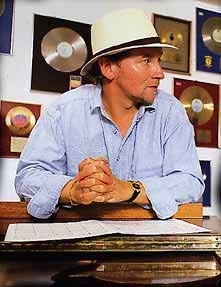 Phil Coulter (born 19 February 1942) is a Northern Irish songwriter, performer and music producer. With writing his partner Bill Martin he penned numerous hit songs for a variety of popular singers in the 1960's and 70' and in the 1980s scored major successes performing his own material. He continues to be a popular performer in his native country and around the world.
Son of a policeman in a divided town
Coulter is from Derry (also known as Londonderry), the second largest city of Northern Ireland. [1] The two names attributed to the city have considerable significance in a divided region, and Coulter's family was acutely aware of this point of "difference", if only because his father was a policeman, one of the few Catholic members of the Royal Ulster Constabulary. One of Phil Coulter's most popular songs, "The Town I Loved So Well", deals with the embattled city of his youth, filled with "that damned barbed wire" during The Troubles. Coulter's father, also called Phil, encouraged music in the house. He played the fiddle while the younger Coulter's mother played the upright piano - a Challen piano, which the son recalls was "the most important piece of furniture in the house".
Education

Coulter spent his secondary school years at St. Columb's College, whose other past pupils include playwright Brian Friel, Nobel Prize winning poet Seamus Heaney, writer and literature professor Seamus Deane, author and military historian Richard Doherty, and Nobel Peace Laureate John Hume.
Beginnings of a career in music
He later studied music at the Queen's University of Belfast (QUB), but did not complete his degree. He started his first band there, playing early rock and roll music and recording two songs for a 'Rag Day' release. Coulter and a group of friends also started a Glee Club, and Coulter was playing the piano for 800 students on one memorable evening when the Beatles were performing in a nearby Belfast cinema, the Ritz. Two students were sent to talk to John Lennon and Paul McCartney, to invite them to join the Glee Club. But in the end they sent their backup singer, Helen Shapiro, one of whose songs was No. 1 in Britain at that time. By 1964, his final year at university, Coulter had already written a couple of hit songs in Ireland and he moved to London, where his first job was as an arranger/songwriter with a music publisher in Denmark Street, London's Tin Pan Alley. This lasted a few years but was not entirely satisfying.
Songwriting partnership with Bill Martin
In the late 1960's, he formed a writing partnership with Bill Martin and from this union several memorable songs would emerge. They wrote Sandie Shaw's Eurovision Song Contest winning entry, "Puppet on a String" (1967), which went on to become an international hit with more than 100 cover versions. They had another hit in 1968 in a song for Cliff Richard called "Congratulations". The Coulter-Martin partnership lasted more then 15 years. During this time the team wrote for Dana, Richard Harris, Elvis Presley ("My Boy"), and the Bay City Rollers, for whom the team wrote nearly all of the band's hits.
Sideman and producer
Coulter also moonlighted as a piano player and worked with such artists as Van Morrison (who gave him the 'Cool Filter' nickname), Tom Jones, Jerry Lee Lewis and the Rolling Stones. He became friends with Billy Connolly, the Scottish performer, and in the 1970's became deeply interested in Irish music, the music of his youth. He produced three ground-breaking albums with Planxty, which had a seminal influence on modern Irish music, though the albums did not earn the artists much money. Christy Moore wrote: "He gave us a shite contract and we signed everything away. All that said, 30 years on this album sounds good. He produced it well and ... he did have the foresight and wherewithal to record the band at a time when no one else was listening".
Going solo
In 1984 he released a solo instrumental album called Classic Tranquility that featured beloved Irish tunes. It was a national sensation. His follow-up, Sea of Tranquility, did even better, becoming the second-best selling album of all time in Ireland. [citation needed] He moved from London back to Ireland, where he set up a music room and office in his house in Bray, south of Dublin. He continued to record and perform around the world, notably at the White House on Saint Patrick's Day. In 1995 the Irish Rugby Football Union asked Coulter to write a politically neutral anthem for the Ireland national rugby union team, which represents both Northern Ireland and the Republic of Ireland. The result was "Ireland's Call". At matches played in the Republic, both "Amhrán na bhFiann" (as the anthem of the host nation) and "Ireland's Call" (as the anthem of the home team) are sung. Elsewhere, "Ireland's Call" is the only anthem used. Coulter's official website notes that he has some 23 platinum records, 39 gold and 52 silver albums. He also keeps one of the walls of his office blank, "to remind me that there's still room for a lot more."

From Wikipedia, the free encyclopedia