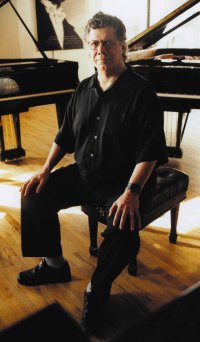 Chick Corea's three decade career is an amalgamation of musical experiences. Born Armando Anthony Corea in Chelsea, Massachusetts on June 12, 1941, he was studying piano by age four and enjoyed a childhood home filled with the sounds of Charlie Parker, Dizzy Gillespie, Bud Powell, Lester Young and Horace Silver - in addition to Beethoven and Mozart, who inspired Corea's compositional instincts.
In 1996, Chick Corea's collaboration with Sony Classical and Bobby McFerrin produced The Mozart Sessions (SK 62601), an album featuring the unique jazz improvisations and vocal overdubs of Corea and McFerrin respectively, which make for a fresh and engaging approach to two of Mozart's Piano Concertos. The disc also includes an improvisation on Mozart's Piano Sonata No. 2. McFerrin and Corea are old friends and colleagues (they recorded a live jazz album together about 6 years ago).
Corea's most recent release on Sony Classical includes his piano concerto, performed with the London Philharmonic Orchestra and Steven Mercurio and Spain, a work for piano, drums, two saxophones, bass and trombone. The album (SK 61799) was released this autumn.
Corea's earliest compositions were recorded during one of his first professional stints, three years with trumpeter Blue Mitchell ('64-'66), which led up to the pianist's first date as a leader, Tones for Jones Bones. Early gigs with the likes of Willie Bobo, Cal Tjader, Herbie Mann and Mongo Santamaria instilled a love of Latin music still prevalent in much of Corea's early work. After a year accompanying Sara Vaughan, he rose to true prominence in the jazz world by joining Miles Davis' band playing electric piano. In the few years with Davis, Corea played on the groundbreaking classic fusion recordings Bitches Brew and In a Silent Way. From there, he formed his own avante-garde improvisational group, Circle, with bassist Dave Holland, drummer Barry Altschul and saxman Anthony Braxton.
In 1971, after three years of Circle, Corea changed his focus. The early edition of Return to Forever (which featured the young Stanley Clarke on bass) was a softer, samba-flavoured ensemble featuring Flora Purim on vocals, her husband Airto on drums and reedman Joe Farrell. After two albums with this lineup and a few solo piano albums released on the side, Corea plugged in and went the electronic fusion route, incorporating into RTF the firepower of drummer Lenny White and guitarist Bill Connors.
While Corea was forging a unique style on the Moog synthesiser, RTF (with Al Di Meola replacing Connors) spearheaded the mid-70's fusion movement with such innovative albums as Where Have I Known You Before, the Grammy-winning No Mystery and Romantic Warrior. When RTF disbanded in 1975, Corea delved into a diverse series of recordings - electronic ensembles, solo piano, classical music, high-powered acoustic duos - with artists like Herbie Hancock and Gary Burton.
Other Corea projects leading up to his mid-80's formation of the Elektric Band were the GRAMMY-winning Leprechaun, My Spanish Heart and Musicmagic, the latter of which was a new Return to Forever project with Vocalist Gayle Moran. Then followed Mad Hatter, RTF Live, and work with Joe Henderson, Freddie Hubbard, Hubert Laws, Chaka Khan and Nancy Wilson, among countless others.
Copyright © 2005 SONY BMG MUSIC ENTERTAINMENT.