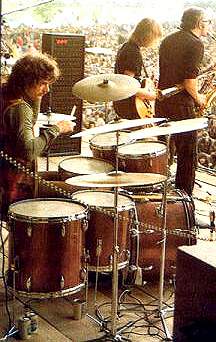 The commercial acceptance of jazz rock in the UK was mainly due to Colosseum. The name was formed in 1968 from the nucleus of the musicians who accompanied John Mayall on his influential album, Bare Wires. Colosseum comprised Jon Hiseman (21 June 1944, London, England: drums), Dick Heckstall-Smith (b. Richard Malden, 26 September 1934, Ludlow, Shropshire, England, d. 17 December 2004, England; saxophone), Dave Greenslade (b. 18 January 1943, Woking, Surrey, England; bass) and James Litherland (b. 6 September 1949, Manchester, England; guitar/vocals). Ex-Graham Bond Organisation members Heckstall-Smith and Hiseman took their former boss' pivotal work and made a success of it. From the opening track of their strong debut, Those Who Are About To Die Salute You (1969), with Bond's "Walkin' In The Park', the band embarked on a brief excursion that would showcase each member as a strong musical talent. Heckstall-Smith, already a seasoned jazz professional, combined with 19-year-old Litherland to integrate furious wah-wah guitar with bursting saxophone. Greenslade's booming Hammond organ intertwined with Reeves" melodically inventive bass patterns. This sparkling cocktail was held together by the masterful pyrotechnics of Hiseman, whose solos, featuring his dual bass drum pedal technique, were incredible. Valentyne Suite the same year maintained the momentum, notably with the outstanding Heckstall-Smith composition, "The Grass IS Greener".
As with many great things, the end came too soon, although departing member Litherland was replaced with a worthy successor in Dave Clempson (b. 5 September 1949, Tamworth, Staffordshire, England). In order to accommodate Clempson's wish to concentrate on guitar Colosseum enlisted Greenslade's former boss in the Thunderbirds, Chris Farlowe. His strong vocals gave a harder edge to their work. Following the departure of Reeves and the recruitment of Mark Clarke, their work took a more rock-orientated approach. The end came in October 1971 with their last studio album, Daughter Of Time, quickly followed by Live.
Hiseman and Clarke formed Tempest, but after two mediocre albums Hiseman resurrected the name in the shape of Colosseum II in 1975. The new version was much heavier in sound and featured ex-Thin Lizzy guitarist Gary Moore, future Whitesnake bass player Neil Murray and future Rainbow keyboard player Don Airey. Vocalist Mike Starrs completed the line-up and they progressed through the mid-70s with three albums, before Colosseum II finally collapsed through Hiseman's exhaustion, and his wish to return to his jazz roots. He eventually joined his wife Barbara Thompson, playing jazz with her band, Paraphernalia.
In the mid-90s the majority of the original Colosseum line-up reunited with Farlowe as vocalist. Although Hiseman had often mooted the idea of a reunion, he stated that the time now "seemed right". The unit remained a viable concern into the new millennium, although Heckstall-Smith passed away in December 2004. A reissue series by Sanctuary Records saw the band's original albums fleshed out with numerous extra tracks.