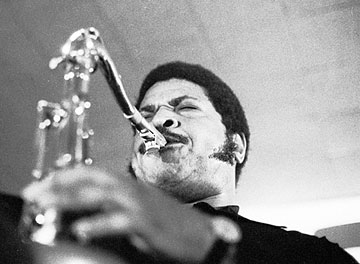 George Coleman's highest visibility occurred when he was a member of the Miles Davis Quintet (1963-1964), playing alongside Davis, Herbie Hancock, Ron Carter, and Tony Williams. His decision to leave the group after several notable recordings cut short his potential fame (his eventual replacement was Wayne Shorter), but Coleman has created a great deal of rewarding music since.
Part of the rich Memphis jazz scene of the early '50s, he started playing in blues bands in the South (including with B.B. King in 1952 and 1955-1956). He moved to Chicago in 1957 (where he played with the MJT+3), and to New York the following year. Coleman was with the Max Roach Quintet (1958-1959), Slide Hampton's octet (1959-1961), and Wild Bill Davis (1962), before joining Davis.
Following that association, he was with Lionel Hampton, Elvin Jones, and Charles McPherson. Since the mid-'70s, George Coleman has mostly led his own groups, and has recorded both as a leader (for Timeless, Theresa, and Verve) and as a sideman quite frequently; one of his more notable appearances from earlier years was on Herbie Hancock's 1964 classic Maiden Voyage.
Scott Yanow, All Music Guide
* * *
George Coleman (born March 8, 1935 in Memphis, Tennessee) is an American jazz saxophonist, known chiefly for his work with Miles Davis and Herbie Hancock in the 1960s.
Coleman taught himself to play the alto saxophone in his teens, inspired (like many jazz musicians of his generation) by Charlie Parker. Among his schoolmates were Harold Mabern, Booker Little, Frank Strozier, Hank Crawford and Charles Lloyd. After working with Ray Charles, B.B. King hired Coleman in 1955, at which point he switched to tenor saxophone. In 1956 he moved to Chicago, where he worked with Gene Ammons and Johnny Griffin before joining Max Roach's group in 1958. Moving to New York with Roach in that year, he went on to play with Slide Hampton, before being asked by Miles Davis to join his new group in 1963, initially with Strozier, Mabern, Ron Carter and Jimmy Cobb. His most famous albums with Miles (and the rhythm section of Herbie Hancock, Carter and Tony Williams) are My Funny Valentine and Four and More, both live recordings of a concert in Lincoln Center in 1964. Shortly after this concert, Coleman was replaced by Wayne Shorter. The following year he played on Hancock's Maiden Voyage, generally considered to be one of the pianist's finest albums. Although he was often overshadowed by the tenor-saxophonist Wayne Shorter, those who listen to Coleman's recordings will find him to be a lyrical player of rare quality.

Coleman went on to play with Chet Baker, Charles Mingus, Shirley Scott, Clark Terry, Horace Silver, Lee Morgan, Elvin Jones, Ahmad Jamal and many others. From the early seventies he led his own bands, and also worked with others - including, in 2002, fellow Miles Davis alumni Ron Carter, Jimmy Cobb and Mike Stern, on the album Four Generations of Miles.
From Wikipedia, the free encyclopedia