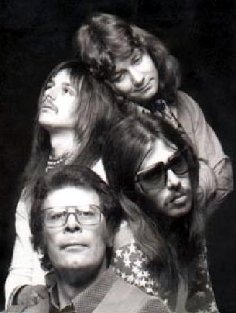 Led by Colin Cooper, the former frontman of the R&B unit the Hipster Image, the Stafford, England-based Climax Chicago Blues Band was one of the leading lights of the late-1960s blues boom. A sextet also comprised of guitarists Derek Holt and Peter Haycock, keyboardist Arthur Wood, bassist Richard Jones and drummer George Newsome, the group debuted in 1969 with a self-titled effort recalling the work of John Mayall. Prior to the release of 1969's Plays On, Jones left the group, prompting Holt to move to bass. In 1970 the Climax Chicago Blues Band moved to the Harvest label, at the same time shifting towards a more rock-oriented sound on the LP A Lot of Bottle. Around the release of 1971's Tightly Knit, Newsome was replaced by drummer John Holt; upon Wood's exit in the wake of 1972's Rich Man, the unit decided to continue on as a quartet, also dropping the "Chicago" portion of their name to avoid confusion with the American band of the same name. In 1974 the Climax Blues Band issued FM Live, a document of a New York radio concert. 1975's Stamp was their commercial breakthrough, and 1976's Gold Plated fared even better, spurred on by the success of the hit "Couldn't Get It Right." However, the rise of punk effectively stopped the group in their tracks, although they continued recording prolifically well into the 1980s; after 1988's Drastic Steps, the Climax Blues Band was silent for a number of years, but resurfaced in 1994 with Blues From the Attic.
Jason Ankeny

* * *

Founded in 1968 as a sixpiece, playing straight blues and bluesy rock. Steady line up centered around guitarist Peter Haycock (who many years on recorded the first guitar album on the all instrumental NO SPEAK record label). Later on changed group name to Climax Blues Band and found success on the U.S. market. But time flies - and in '89 they gigged at "The Tramshed" in Woolwich and in '93 at "The Half Moon" in Putney - back on the U.K. trail.

Colin Cooper
Full name : Colin Francis Richard Cooper. DoB : 7th October 1939, Stafford, England. Instruments : Vocals, tenor, alto and soprano saxes, harp, clarinet, flute and guitar. Started playing : Started on harmonica aged twelve, switched to clarinet at sixteen, and began on sax a couple of years later. No formal training, apart from church choir as a boy. Other bands : Played in school jazz bands, formed Climax Jazz Band around 1964. First recorded with Hipster Image for Decca in 1965. The B side of this single, "Gonna Make Her Mine", is currently being used in a Levi's ad in the Far East! Formed Climax Blues Band in late 1967, after short-lived group The Gospel Truth folded. Also works in duo with singer and pianist Terry Butters. Influences : Clarinettist Johnny Dodds, saxophonist Earl Bostic (first record bought was "Flamingo"), Big Bill Broonzy, Ben Webster and Muddy Waters.

Lester Hunt
Big Lester is a big man in every sense of the word. After music his main interests are definitely food and drink, not necessarily in that order. Les is a man of many guises, sometimes known as "Camcorder Man", Les likes to keep an audio-visual diary of life on the road, which at some future date will probably be donated to some institute for psychiatric research. He is also something of a champion sleeper, and will answer to the name Rip Van Hunt (if he is awake). Married to Sue, Les has a son Christian. Full name : Lester Hunt. DoB : 21st February 1956, Stretford, Manchester, England. Instruments : Guitar. Started playing : Aged 8. Other Bands : Formerly with own band Hunter, and Demon. Also plays with the Barflys. Played classical violin with Staffordshire Youth Orchestra. Influences : Inspired to play by hearing Django Rheinhart and Stephane Grappeli as child. Major favourites include Peter Green, Jeff Beck, Paul Kossoff and B.B. King.

George Glover
Known as a practical joker on the road, George is always planning or executing some elaborate prank, usually involving heavy furniture, buckets of water, and/or large plants. Very fond of animals, especially dogs, in spite of an unfortunate incident involving a sniffer-dog on the Swiss border, George can converse with dogs in five different languages. Married to Bet, George has a passionate interest in food and drink, and loves to cook. Full name : George Glover. DoB : 28th October 1947, Stoke-on-Trent, England. Instruments : Keyboards.Started playing : Began around 1960, self-taught. Other Bands : Numerous local bands in early days, Cyril Dagworth Players in 70's, played on David Parton's hit "Isn't She Lovely". Currently plays also with Stoke band the Barflys. Influences : Lennon and McCartney, Bob Dylan, Jimmy Smith, Bruce Hornsby and Leonard Cohen.

Neil Simpson
Neil is the baby of the band, and as such has to endure the moans and groans of the other miserable old gits. He is a walking encyclopaedia as far as bass gear is concerned. Once asked what he would do if he won the National Lottery, he said "Keep gigging and upgrading my gear til it was all gone." Addicted To "Championship Manager ", Neil also lives a secret double life as a plain-clothes policewoman! Full name : Neil Simpson. DoB : 6th of January 1959, Stoke-on-Trent, England. Instruments : Bass-guitar, seven-string bass-guitar, and midi bass-synthesiser. Started playing : 1971. Other bands : Played in Birmingham-based fusion band 747 with the Argulies Bros. and Snake Davis. Also plays in the Ruby Turner Band. Influences : Paul McCartney initially, later Jack Bruce, John Entwhistle, Stanley Clarke and Jaco Pastorius.

Roy Adams
Roy also rejoices under the pseudonym of Mr. Appalling. This is the result of the fact that, when over-refreshed, he exhibits a Jekyll-and-Hyde tendency to abandon all the rules of normal polite social behaviour, and appears to be determined to mortally offend anyone who happens to be within earshot, although it has to be said, in an extremely friendly and affable manner. As a child, he always said he wanted to be a drummer when he grew up. One out of two isn't bad! Very proud of his daughter Sally. Full name : Roy Adams. DoB : 17th May 1952, Birmingham, England. Instruments : Drums and percussion. Started playing : Around 1967. Other bands : Was with Seve Gibbons Band, also plays with Ruby Turner and Roy Wood. Influences : Mitch Mitchell, Buddy Rich, Tony Williams, Jeff Porcaro, Vinny Coliutta, Steve Gadd.