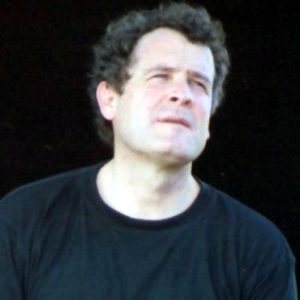 Johnny Clegg, born in Rochdale, England in 1953 was raised in his mother's native land of Zimbabwe before immigrating to South Africa at the age of nine.
At the age of 14, Johnny began to learn to play the guitar. Through his interest he met CHARLIE MZILA, a Zulu flat cleaner who played street music near Clegg's home. For two years Johnny learned the fundamentals of Zulu music and traditional Zulu INHLANGWINI dancing with Charlie. He was 13 years old when he saw the dancers for the first time.
Equipped with his guitar, Johnny accompanied Mzila to all the migrant labour haunts – from hostels to rooftop shebeens. However, Johnny's involvement with black musicians often led to him being arrested for trespassing on government property and for contravening the Group Areas Act, (an apartheid law forcing different races to keep to their own residential and recreational areas). In this difficult and complex political landscape, Johnny managed to navigate a path, which enabled him to enter the hidden world of the Zulu migrant labourers. These men lived in a number of huge barrack-like hostels around Johannesburg, serving Johannesburg's insatiable appetite for cheap black labour. During this period he developed a reputation as a competent Zulu guitarist in the MASIKANDE (from the Afrikaans "Musikant") tradition.
This reputation reached the ears of SIPHO MCHUNU, a migrant Zulu worker who had come up to Johannesburg in 1969 looking for work. Intrigued he challenged Johnny to a guitar competition, sparking off a friendship and musical partnership destined to alter the face of South African music. Sipho was born in Kranskop, Natal, in 1951. Although he had no musical training as a young boy, he had made himself a variety of musical instruments; his favourite being a three stringed guitar fashioned out of a paraffin tin. Soon he became extremely adept and well versed in Zulu street guitar music. He later also formed a traditional Zulu dance team and found a vast outlet for his creative energies. Sipho investigated this young white boy who danced and also played Zulu street music and looked him up at his apartment one day. A strong friendship developed out of this meeting as for the first time Johnny was playing with a street musician his own age. Johnny was sixteen and Sipho eighteen.
Together they worked, often subjected to racial abuse, threats of violence and police harassment. As places where they could perform were limited by the apartheid laws, they had to stick to the street and private venues such as church and university halls. When Johnny finished his schooling he went to University, graduating with a BA (Hons) in Social Anthropology and pursued an academic career for four years lecturing at the University of the Witwatersrand and the University of Natal.
In 1976 Johnny and Sipho secured a major recording deal and had their first hit sing entitled, "Woza Friday". A period of development followed, during which Johnny worked on the concept of bringing together English lyrics and Western melodies with Zulu musical structures. The formation of JULUKA, meaning "sweat" in Zulu, was in total contravention of the Cultural Segregation laws of the time, which emphasized the separation of language, race and culture. (Juluka was the name of Sipho's favourite bull, because like all migrants, Sipho practiced some cattle farming in the rural areas). Their music was subjected to censorship and banning and their only way to access an audience was through live touring. In late 1979 their first album "Universal Men" was released.
Johnny Clegg and Sipho Mchunu launched their second album "African Litany" in early 1981. Although their work had been largely ignored by the South African Broadcasting Corporation due to Juluka's mixing of languages and African and Western music forms, "African Litany" became a major breakthrough Album for the band through word of mouth and live performances. "Ubuhle Bemvelo" was their immediate follow-up Album and was entirely in the Zulu language, but mixing Western and African styles of music.
In 1982 and '83, Juluka toured the USA, Canada, the UK, Germany and Scandinavia. In 1983 they released "Work For All" and in late 1984 they released "Musa Ukungilandela". Juluka split in 1985 – Sipho went back to his farm in Zululand where he was born. Johnny went on to form another crossover band "SAVUKA" (We have risen), mixing African music with Celtic folk music and international tock sounds. In 1989, Sipho asked Johnny to assist him in recording a solo Album. Johnny funded and produced Sipho's solo Album and Sipho toured South Africa and France extensively. Sipho recorded a second Album, after which he discontinued his solo career. SAVUKA launched in Johannesburg in 1986 with 5 week run at the market theatre. The band was well received and Clegg was offered a mini tour of France. A year later their Third World Child album was released in France. The band toured Europe extensively in 86 and 87 and soon developed a strong fan based which began to be translated into album sales. By the end of 87 SAVUKA was the leading world music group touring the francophone countries.

Greater success lay waiting in the phenomenal record sales that began to consolidate in 1988. By the end of 1989, SAVUKA had sold over 1 million records of their debut album and their second album was reaching 700,000 units. In an incredible moment on the album and singles charts, SAVUKA held the #1 and #2 position on the album charts with the 1st and second album at the same time, and on the singles charts held the #1 and #7 position with their singles " Asimbonanga " and "Scatterlings of Africa". This was a momentous achievement for the group out of South Africa and in 1990 they received the "Victoires" award from the French recording industry for the biggest selling international artists over two years. They also received in that year the world music award for the biggest selling world music group internationally. In 1990 they completed a nine-month world tour and in 1991 took off six months to rest.

SAVUKA went to record their fourth album and this, their last album was nominated for a Grammy Award for the best world music album in 1993. The band broke up in 1994. Johnny and Sipho began looking at reforming JULUKA. This came to fruition in 1996 when they went into the studio and they commenced recording "Crocodile Love". Johnny Clegg continues to collaborate with Sipho Mchunu and they are currently working on a traditional Zulu album. In October 2002 Johnny Clegg released a new solo CD titled "New World Survivor", and completed a very successful run of theatre shows in South Africa playing to over 40,000 people in Johannesburg, Durban and Cape Town.

In July 2003, Johnny Clegg embarked on a very successful tour of France and Germany. At one festival, 140km north of Paris, Johnny Clegg played to 60,000 people, breaking all previous attendance records for this biennial event. In Germany, Johnny blew the crowds away and had to perform no less than three encores for the enthralled crowd before they would leave.