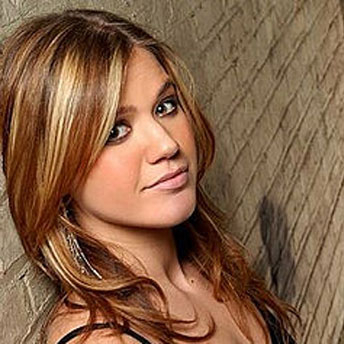 Kelly Brianne Clarkson (born April 24, 1982) is an American pop rock singer, songwriter, and occasional actress. Clarkson made her debut under RCA Records after she won the highly-publicized first season of the television series American Idol in 2002. She was originally marketed as a pop musician with her debut album Thankful (2003). With the release of her multi-platinum second album Breakaway (2004), Clarkson moved to a more pop rock-oriented style of music. Clarkson's third album, entitled My December, was released on June 26, 2007. Her fourth album is due in fall 2008. Clarkson has sold over 19 million albums worldwide. Clarkson is the most successful American Idol alumnus, with eight of her singles becoming Top 10 hits on the Billboard Hot 100. In 2008, she joined Vh1's list of 10 sexiest women of the new millennium at #8. She also hit #28 on Vh1's Top 30 Hottest Rock Front women. She is of Greek, Irish, and Welsh descent.
Kelly Clarkson was born in Fort Worth, Texas and grew up in the small town of Burleson, Texas, a suburb of Fort Worth. She is the third and youngest child of a first grade teacher and a former engineer. Clarkson's siblings include her brother Jason, and her sister Alyssa. When Clarkson was six years old, her parents split up after seventeen years of marriage. As a result, her brother went to live with her father, her sister went to live with an aunt, and Clarkson remained with her mother. Clarkson frequently moved around Texas while her mother managed several professions in order to support the family. The family settled in Burleson, where Clarkson's mother married her second husband, Jimmy Taylor.
While growing up, Clarkson's family had a hard time financially and often argued about money. From this experience, Clarkson learned to be financially responsible and independent at an early age. Music became her refuge after the first divorce, but she didn't embrace it as her salvation until her teens. Clarkson attended Pauline G Hughes Middle School and Burleson High School. She originally wanted to become a marine biologist. In seventh grade, a teacher (Mrs. Cynthia Glenn) overheard her singing in a hallway and asked her to audition for the school choir. Clarkson told the teacher that she had never received professional vocal training. In high school, Clarkson performed in musicals such as Annie Get Your Gun, Seven Brides for Seven Brothers and Brigadoon. It was whilst at school that Clarkson first decided to pursue singing. She sang at her high school talent show, after which a gentleman shared some inspiring words with her: "God has given you this gift. You've got to sing. You're destined to sing." Clarkson did continue to sing and soon started classical training, since her family didn't have much money and she hoped that music would offer college scholarships.
Clarkson worked numerous odd jobs during and after high school, such as mowing lawns, helping her contractor stepfather build porches, and working in a movie theater starting at age 16 and until she moved to Los Angeles. She also worked for Papa John's, Subway, Six Flags Over Texas, Starbucks, and sold vacuums door to door (her latter experience which she described with a well-intended pun: "It sucked.").
Upon high school graduation, Clarkson was offered full scholarships to the University of Texas, University of North Texas, and Berklee, but decided against college because she had "already written so much music and wanted to try on [her] own. And [she] figured you're never too old to go to college."
Clarkson won the first season competition of American Idol on September 4, 2002, earning 58% of the audience vote over Justin Guarini. Choking back tears, Clarkson performed the ballad "A Moment Like This", the song written for the winner of American Idol, which would subsequently appear on her debut album Thankful. The song's music video was filmed at Pantages Theater in Hollywood, and incorporated short scenes of Clarkson performing on Idol. When released as a single in October 2002, it set a then record on the U.S. Billboard Hot 100 chart when it rose from number fifty-two to number one. This achievement was largely due to the impact from Idol as the CD single managed to sell 236,000 copies in its first week of sales in the U.S.; it spent five weeks at number one in Canada.