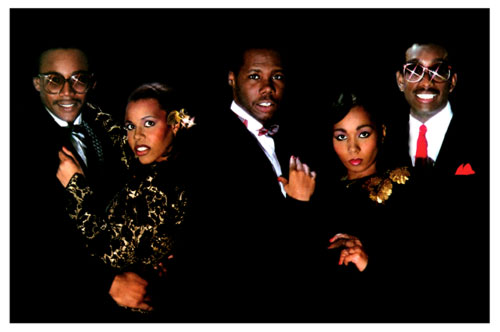 Chic is an American band that was formed in 1976 by guitarist Nile Rodgers and bassist Bernard Edwards. They are best remembered for their disco songs, including "Dance Dance Dance (Yowsah, Yowsah, Yowsah)" (1977), "Everybody Dance" (1977), "Le Freak" (1978), "I Want Your Love" (1978), "Good Times" (1979), and "My Forbidden Lover" (1979). Bernard and Nile had former LaBelle and Ecstacy, Passion & Pain drummer Tony Thompson join the band. They performed as a trio, doing covers at various gigs for awhile. The trio needed a singer to front the band. That singer was Norma Jean Wright, who sang lead on their demotape and on all the songs on their first, self-titled album (1977). Right after the sessions ended for their debut album, CHIC began to work on Norma Jean's self-titled debut solo album, released in 1978. This album contained club hit "Saturday". To facilitate a separate but parallel (to CHIC's) solo career for their lead singer, CHIC had agreed to sign her to a separate contract and label from the band. Unfortunately the legalities of this contract eventually forced Norma Jean to leave the band in mid-1978, but not before taking part in the sessions for CHIC produced Sister Sledge album We Are Family.
But before that, the immediate success of their debut album and the hits "Dance Dance Dance (Yowsah, Yowsah, Yowsah)" and "Everybody Dance" sent CHIC out on the road. They performed as a quartet until February 1978, but Nile & (Ber)Nard thought that their live performances would improve both in sound and visuals if they added another girl to front the band. Norma Jean suggested her friend Luci Martin, who became a member in late winter/early spring of 1978.
In late 1978 the band released C'est CHIC, containing one of their best known tracks, "Le Freak." The track was created in an unusual and unconventional way. Guitarist Nile Rodgers later commented:

"On New Year's Eve, 1977, we were invited to meet with Grace Jones at Studio 54. She wanted to interview us about recording her next album. At that time, our music was fairly popular — 'Dance, Dance, Dance' was a big hit and 'Everybody Dance,' although more underground, was doing very well, too — but Grace Jones didn't leave our name at the door and the doorman wouldn't let us in. Studio 54 was that kind of place. Our music might be playing inside, but the place was packed for New Year's Eve and this was early in our career. Anyway, my apartment happened to be one block away, so Bernard and I went there to sort of quell our sorrows. We grabbed a couple of bottles of champagne from the corner liquor store and then went back to my place, plugged in our instruments and started jamming.
"And since we were feeling bad, we played music to make us feel good. We started jamming on the now-famous riff — Bernard and I were particularly good at making up riffs and jamming together. We were really into jamming and we'd often start writing songs that way, sometimes drawing on ideas that were floating around. In this case, however, the riff was super, super simple, so it didn't have to be pre-planned. It's not like I'd been saving it. It was just something that happened. I had always liked the Cream song 'Sunshine Of Your Love,' and I wanted to do a sort of riff song for CHIC, although not a complete linear riff — that wouldn't be like CHIC — so I incorporated a little linear lick and we started singing, 'fuck off!' [Repeats the lick.] 'Aaaaahh, fuck off!'

"We were so fucked off at what had happened. I mean, it was Studio 54, it was New Year's Eve, it was Grace Jones, and we were wearing the most expensive outfits that we had — back then, in the late '70s, our suits must have cost us a couple of thousand bucks each, and our really fancy shoes had got soaked trudging through the snow. So 'Fuck Off' was a protest song, and we actually thought it was pretty good — 'Aaaaahh, fuck off!' It had a vibe. I was thinking 'This could be the anthem of everybody who gets cut off on the street by a cab driver or any kids who want to say this to their parents.' You know, 'Hey, I wasn't saying it, man! I was just playing the record.'

"We really had pretty big designs on completing the song as 'Fuck Off'. You've got to remember, we didn't think of that prior to sitting down and playing. Once we did sit down and play and started singing that hook, it sounded good; just as good as 'freak out'. In fact, had we not come up with ' off' we would never have written 'Freak Out' and some other song would have been our big hit record. We were screaming it: 'Aaaaahh, fuck off!' Bernard and I usually wrote the hook of a song first, and then once we felt we had a chorus that would pay off, the rest of the song would follow. So, that night we actually converted 'fuck off' to 'freak out'. That was part of the process that first night. First, we changed it from 'fuck off' to 'freak off', and that was pretty hideous. We were singing it and just stumbling over 'freak off', because it was so lame by comparison. Then, all of a sudden it just hit me. For one second the light bulb went on and I sang 'Aaaaahh, freak out!'"

The track was a massive success, topping the U.S. charts and selling over six million copies.

The following year the group released Risqué with the lead track being "Good Times" one of the most important and influential songs ever written: The track formed the backbone of Grandmaster Flash's "Adventures on the Wheels of Steel" and has been endlessly sampled since by many dance and hip hop acts.

At the same time, Edwards and Rodgers composed, arranged, performed, and produced many influential disco and R&B records for both established artists and one-hit wonders, including Sister Sledge, Sheila and B. Devotion, Diana Ross, and Debbie Harry. CHIC also helped introduce the world to an up-and-coming young vocalist named Luther Vandross, who sang on several of CHIC's albums. For the Sister Sledge project CHIC swapped songs with "He's the Greatest Dancer" (originally intended as a CHIC song) exchanging for "I Want Your Love" (originally due to be performed by Sister Sledge).

In the 1980s, the band struggled to obtain airplay and sales, and they eventually disbanded. Rodgers and Edwards separately produced records for a wide variety of artists. Rodgers was largely responsible for the breakthrough success of Madonna in 1984 with her Like a Virgin album. Thompson and Edwards worked with the supergroup Power Station on its 1985 hit LP as well as Power Station lead singer Robert Palmer's solo smash Riptide that same year (both of which Edwards produced).

In the early 1990s, Rodgers and Edwards regrouped and worked on new material: a single, "CHIC Mystique" and subsequent album CHIC-ism, both of which charted. Edwards died of pneumonia on April 18, 1996 on tour in Japan at age 43, but CHIC continued to tour with new musicians. Thompson died of kidney cancer on November 12, 2003 at age 48.

In addition to defining the disco sound, CHIC helped to inspire other artists to forge their own sound. For example, The Sugarhill Gang used "Good Times" as the basis for their hit "Rapper's Delight", which helped launch the rap/hip hop music format as we know today. Queen got the inspiration for their hit single "Another One Bites The Dust" from CHIC's familiar bass guitar riffs after Brian May met the band in the same studio.

On September 19, 2005 the group was honored at the Dance Music Hall of Fame ceremony in New York when they were inducted in 3 different categories: 1) Artist Inductess 2) Record Inductees for "Good Times" and 3) Producers Inductees, Nile Rodgers and Bernard Edwards.