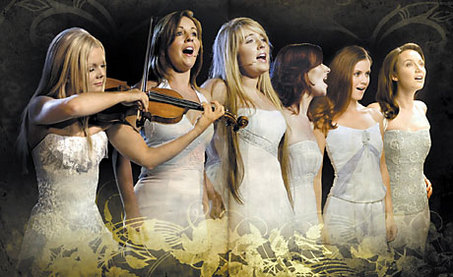 Celtic Woman is an all-female musical ensemble conceived and assembled by David Downes, a former musical director of the Irish stage show Riverdance. His concept was to tap into the American marketplace's taste for Celtic music and culture by creating a group that blended the Irish elements of music and dance which Michael Flatley had successfully exploited with the structure of all-girl pop groups such as Spice Girls and Pussycat Dolls. In 2004, he recruited an aggregate of five Irish female artists who had not previously performed together: vocalists Chloë Agnew, Órla Fallon, Lisa Kelly and Méav Ní Mhaolchatha, and fiddler Máiréad Nesbitt, who became the first representatives of Celtic Woman. Downes proposed a repertoire that would range from traditional Celtic tunes to modern songs. Over the years, some of the group's members have changed; in 2009, the group consisted of Chloë Agnew, Lynn Hilary, Lisa Kelly, Alex Sharpe and fiddler Máiréad Nesbitt. Five albums have been released under the name "Celtic Woman": Celtic Woman, Celtic Woman: A Christmas Celebration, Celtic Woman: A New Journey, Celtic Woman: The Greatest Journey, and Celtic Woman: Songs from the Heart. The group has undertaken a number of world tours. Cumulatively, albums by Celtic Woman have sold over 5 million records worldwide. The foundation for Celtic music's popularity outside Ireland and Europe was built by tapping into the success of artists such as Enya and Clannad, along with stage shows Riverdance and Lord of the Dance. Celtic Woman has been described as being "Riverdance for the voice."

Celtic Woman was taped on 15 September 2004 for PBS television at The Helix, Dublin, Ireland, in front of a sold-out audience. Organized by producer Sharon Browne, Chairman & CEO Dave Kavanagh, and musical director and composer David Downes, this performance was first broadcast on PBS during March 2005 in the United States, and within weeks the group's eponymous debut album, Celtic Woman, reached #1 on Billboard's World Music chart, eventually breaking Andrea Bocelli's long-standing record of chart-topping longevity on 22 July 2006 by having stayed at #1 for 68 weeks. The album held the top position on the Billboard World Music chart for 81 weeks total. Much of the group's success in America has been credited to the extensive PBS publicity throughout 2005. The live performance at The Helix was released on DVD alongside the studio album. The release of the second album, Celtic Woman: A Christmas Celebration, on 19 October 2006 knocked their first album to the #2 spot on the World Music chart. In preparation for their third studio album, Celtic Woman performed at Slane Castle in County Meath, Ireland, on 23 August and 24 August 2006, with this show airing on PBS during December 2006. The studio album, titled Celtic Woman: A New Journey, was released on 30 January 2007, and as with their debut, the live performance was released on DVD simultaneously. This album immediately hit the Billboard 200 at #4[8] and the Billboard World Music chart at #1, moving their previous two releases down a notch and securing the top three positions on that chart for the group.
In response to the popularity of the performance at Slane Castle in 2006, on 7 December 2007 PBS aired a special concert of Celtic Woman performing again in The Helix Theatre, Dublin, Ireland. This performance included songs from the group's second album, Celtic Woman: A Christmas Celebration. A fourth album, called Celtic Woman: The Greatest Journey, was released in 28 October 2008. Celtic Woman: Songs from the Heart, the group's fifth album, was released 26 January 2010.