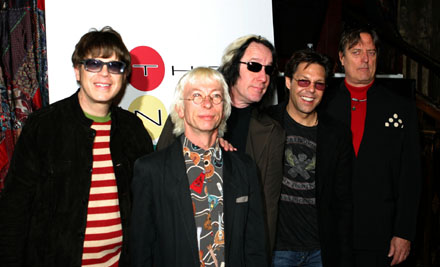 Before The Cars, the members of the band began coming together in several early forms. Ric Ocasek and Ben Orr were the first to meet at a party in Columbus, Ohio and they began performing as a duo, covering rock 'n roll classics as well as performing their own material. They refused to to the same old Top 40 routine that club owners expected of a young band.
After deciding that Boston would be a better place to break into the music business, Ric Ocasek and Benjamin Orr relocated there. It was here that they met Greg Hawkes, who had studied at Berklee, and the three were the first to work together in a folk band called Milkwood. They put out one album entitled "How's the Weather". It's very different from what then became the Cars in both the look and the music. The look...Richard Otcasek and Ben Orzechowski (as they were back then) along with Jas Goodkind, another member, were shown on the album's cover; Ric and Ben both have an image resembling mountain men, including long hair and moustaches and are almost unrecognizable.
The music...Milkwood is a folk band, so it is obviously different from the new wave sound of the Cars. With songs like "The Light Won't Burn", "With You, With Me", "Lincoln Park", and "Timetrain Wonderwheel", the music on this album is nothing like one would expect from them. Ric has nothing but regrets abput this part of his career, but he admits that he still has a copy of the album, even though he never listens to it. Of course, "How's the Weather" is now a highly collectible item and extremely hard to find since it vanished so soon after its release. But Cars' collector's have sought out copies, much to Ric's dismay.
After Milkwood, Ric and Ben put together another group called Richard and the Rabbits, whose name was suggested by Jonathan Richman. They were a local club band for a while. Soon after, Greg temporarily left Ric and Ben and joined up with groups including Orphan, a soft-rock band, and Martin Mull and His Fabulous Furniture, who worked in musical comedy, where he played a variety of instruments. Ric and Ben then performed as an acoustic duo called Ocasek and Orr at the Idler coffeehouse in Cambridge. Some of the songs they played became the background music in early Cars' songs.
Yet another group followed, this time including Elliot Easton and later, Greg Hawkes, after returning from Martin Mull's group. It was called Captain Swing (or Cap'n Swing). This is what caught the attention of Maxanne Sartori, a local DJ on WBCN-FM who began frequently playing their songs. She had seen Cap'n Swing perform live and soon became friends with Ric. She also discovered that she had attended the same school as Ric - Antioch College. He had originally asked Maxanne to manage this new group, but she turned him down, claiming that she could do nothing for them.
However, she did suggest that Ben be seen playing an instrument instead of just standing around. Ric told her that he can play any instrument, but he played the bass guitar the best. Maxanne concluded, "Well, tell him that he's got to play the bass from now on."
Though they were slowly becoming more experienced musicians, Cap'n Swing still had a long way to go before developing a professional image. Cap'n Swing's drummer was soon replaced by David Robinson even though David said that he should really have a regular job instead and that the Cars would be his last band. Best known for his career with the Modern Lovers, David had also layed in DMZ and the Pop! But David was more than just a new drummer.
Bringing to the group his artistic style, he created a new visual image that could be seen on their albums, their image, and on stage for years to come. David was even the one who came up wiht the Cars' name which led to a lot of catchy, automobile related puns. Aside from that, Ric stated that, "It's so easy to spell; it doesn't have a 'z' on the end; it's real authentic. It's pop art, in a sense."
After spending the winter of 1976 in Ric Ocasek's basement working on a new collection of songs, The Cars were soon signed to Elektra Records (instead of Arista). But this time they had to go out and get themselves discovered rather than waiting for a record company to come to them. The brass at Elektra liked what they were hearing on the radio: a demo version of "Just What I Needed," which would go on to become The Cars' first single on their debut album.