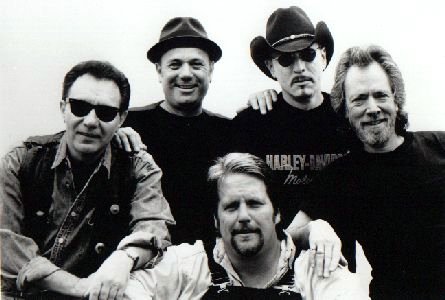 Canned Heat was started as a jug band in November 1965, in Northridge, California by a group of "musicologists" who loved blues music. Soon the band evolved into an electrified blues/rock band with the uncanny ability to interpret and create a modern version of the blues. While they never reached the popular acclaim of some of the other bands of the psychedelic era, none the less, they were a talented group of musicians who created some of the most unique music of that or any rock and roll era. Musical trends come and go. Canned Heat's "boogie music" has been at the forefront of popularizing blues music, as exemplified by such hits as "On The Road Again", "Goin' Up The Country", "Let's Work Together", "Amphetamine Annie" and "Refried Boogie.
The primary members of Canned Heat include such legendary musicians as singer and 300-pound, former record-store manager Bob "The Bear" Hite who grew up in Denver. The Bear once said that "to sing the blues, you have to be an outlaw. Blacks are born outlaws, but we white people have to work for that distinction." The Bear died on April 6th, 1981 of a drug-related heart seizure behind the Palomino Club in North Hollywood, California.
Rhythm/slide guitarist and harmonica player Alan "Blind Owl" Wilson, born in 1943, grew up in Arlington, Ma. When the band formed he was a musicology student. He was an avid record collector and a firm believer in true roots music. Wilson died from depression mixed with a heroin drug overdose in September 1970 at 27. Joel Scott Hill was brought in to sing for Wilson. On Hooker 'n Heat, a framed photograph of the "Blind Owl" is on the wall above the band in memoriam.
Born Christmas Day, 1944, lead guitar player Henry "The Sunflower" Vestine was a former member Frank Zappa's Mother's of Invention. Vestine eventually left Canned Heat to form a new band and was replaced by Detroit's Harvey Mandel. Vestine died on Oct. 20, 1997 from heart and respiratory failure in a hotel outside Paris. His ashes, now buried at Oak Hill Cemetery, will eventually be transported to a crater on the dark side of the Moon named after his father, a noted astrophysicist.
Original drummer Frank Cook was replaced by Adolfo "Fito" de la Parra, when the band felt that it needed a more R&B type rhythm for their second album. Original bassist Stuart Brotman was replaced by Larry "The Mole" Taylor who eventually left for Mayall and subsequently was replaced by Mark Andes of Spirit. Other members through the years include Harvey "The Snake" Mandel, Junior Watson and Robert Lucas. They can boast of collaborations with Little Richard, John Mayall, and John Lee Hooker.
Their debut album was released on the Liberty label in 1967 just in time to make a major appearance at the Monterey Pop Festival. After being arrested in Denver on drug charges the band's image as the bad boys of rock eventually led to their becoming a favorite of the Hells Angels and other biker clubs. For their second album, Wilson wrote "On The Road Again," which featured Wilson's high-pitched vocals. In 1968, the band released their next effort, a two record set "Living the Blues", that featured "Going Up The Country" which was to many a highpoint of the legendary Woodstock festival. Wilbert "Kansas City" Harrison's "Let's Work Together," pumped up the charts about the same time Caned Heat was gigged at the Isle of Wight festival.
Canned Heat has toured extensively throughout the world and performed at numerous festivals including the original Woodstock, Monterey Pop, Newport Pop, the Isle of Wight Festival in England, the Sturgis Motorcycle Run U.S.A. to mention just a few. They have performed at world-renowned venues such as the Olympia in Paris, both Fillmore Auditoriums, The Avalon Ballroom, The Family Dog in Denver, The Kaleidoscope, Carnegie Hall, Madison Square Garden and the Royal Albert Hall. Their music has been featured on television and in films like "Woodstock", "1969", "Flashback", and "Forrest Gump". Their music is currently being heard in various television commercials." On The Road Again" for Miller Beer, "Goin' Up The Country" for Pepsi, Chevrolet and McDonald's, "Let's Work Together" for Lloyd's Bank, England's Electric Company and Target Stores, "Christmas Blues" for Heineken with other songs for 7-Up and Levi's.
Canned Heat continues today with long time members Fito de la Parra and Larry "the Mole" Taylor leading the way. Vocal duties have been handled over the years by Walter Trout, James Thornberry and Robert Lucas. Recently, Fito de la Parra has written a book, "Living the Blues," which chronicles the history of Canned Heat.