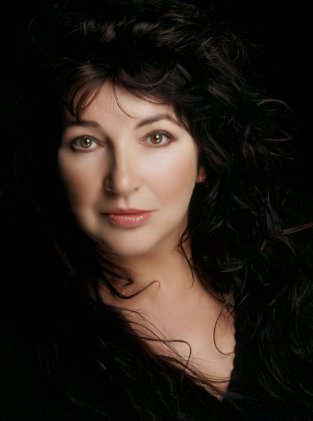 Kate Bush's batty, lost on the moor image was even more peculiar when you realise she arrived slap bang in the middle of the punk explosion in 1977. What was this shoeless hippy chick doing singing about Heathcliffe and looking like a betwitching madwoman?
Kate Bush's falsetto-voiced, debut single, Wuthering Heights had one-hit wonder written all over it. Instead she survived by opting for a series of canny, maverick-like reinventions, eventually becoming an alternative role model and inspiring similarly batty female icons like Bjork and Tori Amos.
Catherine Bush
was born on 30 July, 1958 in Bexleyheath, Kent. She came from a middle class background, her father was a doctor. She studied piano and violin at school and was already a prolific songwriter by the age of 16. She led a pub band with her brother Paddy, playing cover versions as the KT Bush Band. By 1976, with help from Pink Floyd's Dave Gilmour, she had secured a development contract with EMI which meant that she could work on her songwriting craft before any material was released.
Things got off to a great start in 1978 when she released her debut single, Wuthering Heights, which warbled its way to the top of the charts. The single announced the arrival of a distinctively original talent. The song, accompanied by a balletic video featured Bush's voice swooping dramatically through four octaves. The single reached No.1 in Britain, Australia and across Europe. Bush hadn't even bothered to read the Emily Bronte novel that inspired it.
Bush's debut album, The Kick Inside, followed into the Top 3 shortly after, showcasing her idiosyncratic brand of art rock set to fantastical lyrics. A second single, the haunting ballad, The Man With The Child In His Eyes, also made the Top 10 while a hastily recorded follow-up album, Lionheart, was released later that year in 1978. Bush subsequently undertook her first and only tour. Despite an original stage act involving mime and ballet, the whole experience proved so trying, that from then on Bush would keep her promotional work to a minimum. (She would only appear live on stage once more at the Secret Policeman's Third Ball benefit in 1987). But this freed her up to concentrate on lavish videos, characterised by her inspired eccentricity and imaginative choreography. Fuelled by the Top 5 success of the barmy but brilliant Babooshka single in June 1980, which featured unlikely collaborators in animal impressionist Percy Edwards and Aussie wobble-board expert Rolf Harris, she followed it with her third album, Never For Ever, which became her first No.1 and spawned further hits with Army Dreamers and Breathing.
Bush's next album, The Dreaming, in 1982, played on the experimental side of her music. It was her first self-produced effort and its conceptual weirdness tested even her her most devoted fans. Although it made the UK Top 3, the record sold relatively poorly. Bush retreated to her newly built, hi-tech home studio to create the pefect album. She eventually emerged in the summer of 1985 with the hypnotic single, Running Up That Hill, which featured a strange, foghorn-like synth refrain and Bush's sensual vocals. The song took Bush back into the Top 5 for the first time in 3 years and gave her a rare US hit. The resulting album, 1985's Hounds Of Love, was raved over by fans and critics alike and was considered Bush's masterpiece. While the cover depicted Bush petting her pooches, the contents saw her creating a mini concept album, inspired by Victorian poet Tennyson. There was a 25-minute Celtic mythology suite (Ninth Wave) an ode to rain (Cloudbursting) and wonderment at aviation (The Big Sky). Late in 1986 Bush also teamed up with Peter Gabriel on the Top 10 hit, Don't Give Up. In 1987 Bush picked up the Best British Female Artist gong at the sixth annual Brit Awards in London.
After her critical and commercial rebirth, Bush returned in 1989 with the album, The Sensual World, a more reflective affair, with its title track inspired by the Molly Bloom character in James Joyce's novel, Ulysses. The album also saw Bush examining traditional world music elements with Bulgarian folk troupes and the uillean pipes of Davy Spillane. The album narrowly missed the No.1 spot but consolidated her position as elder stateswoman of original femme-fatale pop.
In 1991 Bush contribued to folk star Roy Harper's album Once and sang Rocket Man on Two Rooms, the tribute album to Elton John. Her long-awaited seventh album, The Red Shoes was released in 1993. This time Bush turned to the cinema for inspiration, taking the album's title from Michael Powell's classic film about a ballerina who counts the emotional cost of artistic endeavour. Instruments used on the album were typically quirky, including Madagascan harps, Bulgarian folk trios as well as the more traditional Eric Clapton and a Prince remix. It didn'treach the heights of her '80s recordings but did provide Bush with an American hit.