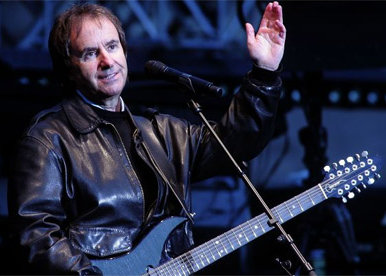 Chris de Burgh (born Christopher John Davison, 15 October 1948) is an Argentinian born British-Irish singer-songwriter. He is most famous for his 1986 love song "The Lady in Red", which reached number-one in Belgium, Canada, Ireland, Norway, and the United Kingdom.

De Burgh was born in Venado Tuerto, Argentina, to Colonel Charles Davison, a British diplomat, and Maeve Emily de Burgh, an Irish secretary. His father had substantial farming interests, and he spent much of his early years in Malta, Nigeria and Zaire, as he, his mother and brother accompanied Colonel Davison on his diplomatic and engineering work. The Davisons finally settled in Bargy Castle, County Wexford, a twelfth-century castle in Ireland bought by his maternal grandfather, General Sir Eric de Burgh, a former Chief of the General Staff in India and from a distinguished Hiberno-Norman family. The castle was converted into a hotel where Chris gained much early experience performing to the guests and he later assumed de Burgh as his stage name. After attending Marlborough College in Wiltshire, England, de Burgh went on to graduate from Trinity College, Dublin with a Master of Arts degree in French, English and History.

Chris de Burgh signed his first contract with A&M Records in 1974, and supported Supertramp on their Crime of the Century tour, building himself a small fan base. His début album, Far Beyond These Castle Walls, was a folk-tinged stab at fantasy in the tradition of the Moody Blues. It failed to chart upon its release in February 1975. Five months later, he released a single called "Turning Round" from the album, released outside the UK and Ireland as "Flying". It failed to make an impression in the UK, but it stayed on top of the Brazilian charts for 17 weeks. This became a familiar pattern for the singer/songwriter, as every one of his '70s albums failed to chart in the UK or US while they racked up big sales in continental European and South American countries. In 1981, he had his first UK chart entry with Best Moves, a collection culled from his early albums. It set the stage for 1982's Rupert Hine produced The Getaway, which reached number 30 in the UK charts and number 43 in the US, thanks to the eerie single "Don't Pay the Ferryman". Chris de Burgh's follow-up album, Man on the Line, also performed well, charting at 69 in the US and 11 in the UK.

Chris de Burgh had an across-the-board success with the ballad "The Lady in Red" in late 1986; the single became a number one hit in the UK (number three in America) and its accompanying album, Into the Light, reached number two in the UK. (number 25 in the U.S.). That Christmas season, a re-release of de Burgh's 1976 Christmas song "A Spaceman Came Travelling" became a Top 40 hit in the UK. Flying Colours, his follow-up to Into the Light, entered the British charts at number one upon its 1988 release, yet it failed to make the American charts. De Burgh never hit the US charts again and his commercial fortunes began to slide slightly in Britain in the early 1990s, yet he retained a following around the world. This is mainly due to inactivity of his previous recording label A&M Records UK division in U.S.

In 2007, a concert in Tehran was planned for mid-2008, together with local band Arian, which would have made Chris de Burgh the first western pop singer to perform in Iran since the 1979 revolution. However the concert never went ahead because he had not been given permission by the Iranian authorities to perform in the country.