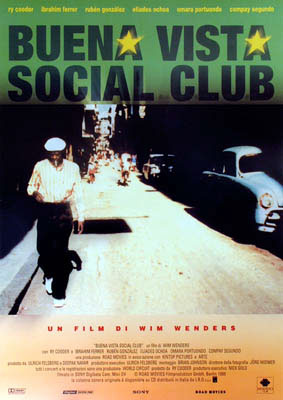 The original
Buena Vista Social Club
album was one of three projects recorded during the two-week session organized by World Circuit Records at EGREM Studios, Havana, Cuba, in March 1996. The session also produced Introducing Rubén González and the Afro-Cuban All Stars' A Toda Cuba Le Gusta. The original concept for the Buena Vista Social Club was of a small guitar-based band, featuring
Ry Cooder
(who also acted as producer) playing alongside musicians from Mali and Cuba. However, this was abandoned after the two Malian musicians booked to play failed to arrive because of problems with their passports. The line-up for the session was finally comprised of musicians who had played on the Afro-Cuban All Stars album, including bolero vocalist
Ibrahim Ferrer
(b. 20 February 1927, San Luis, Cuba) and pianist
Rubén González
(b. 26 September 1919, Santa Clara, Cuba, d. 8 December 2003, Havana, Cuba), plus others suggested by Cooder, such as veteran singers
Compay Segundo
(b. Maximo Francisco Repilado Munoz, 18 November 1907, Siboney, Cuba, d. July 2003, Havana, Cuba),
Manuel "Puntillita" Licea Lamot
(b. 4 January 1927, d. 4 December 2000) and
Omara Portuondo
(b. October 1930, Havana, Cuba), as well as Eliades Ochoa of Cuarteto Patria. The songs chosen for the session were a collection of Cuban classics, both old and new. The resulting album was gentle and folky but also passionate, with a variety of sounds and styles including piano instrumentals, acoustic ballads, dance tunes and a bolero sung by former lovers Portuondo and Segundo. Cooder described the recording session as "the greatest musical experience of my life" and he appeared happy to let the Cuban veterans take the spotlight, allowing his presence to be felt through his distinctive playing, as he had done three years earlier on Ali Farka Touré's Talking Timbuktu. The Buena Vista Social Club was released in June 1997, and was well received by the critics, featuring in many best world, Latin and folk album polls for that year. The album was awarded a Grammy for "best tropical dance album of 1997". It also appeared in many national album charts around the world and went on to sell millions, but earned Cooder a $100,000 fine from the US state department for breaching the embargo against Fidel Castro's communist regime.
Released two years later, Buena Vista Social Club Presents Ibrahim Ferrer, featured the venerable vocalist performing a varied programme of up-tempo dance tunes, swampy sounding Cuban-blues fusions and lush, string-laden boleros. Cooder again produced and played guitar. Other contributors to the first album, including Ruben Gonzalez, were again involved, alongside other well-known Cuban musicians. Ferrer promoted the album with tours of Europe and the USA. A documentary film, Buena Vista Social Club, was made in 1999 by German director Wim Wenders and was shown in cinemas and on television throughout the world. The third instalment in the series featuring Portuondo ("Cuba's Edith Piaf"), was released the following spring. Cooder recorded one further album in Cuba with local guitarist Manuel Galban, for which he was granted a special exemption from state department rules by outgoing US president Bill Clinton.
Encyclopedia of Popular Music
Copyright Muze UK Ltd. 1989 - 2002