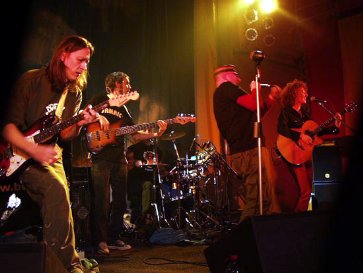 The Buccaneers
Roots-Groove-Reggae-Band
The little Austria in the middle of Europe is some kind of reflection of the caribbean island Jamaica. People in both countries live their lifes inna typical "soon-come-mentality", speak a strong dialect which is written nowhere, love music and know how to enjoy good vibes…
The Buccaneers are a sort of cultural bridge between these two small countries. After reggae artists from Jamaica started to spread Reggae all over this lovely planet, it's now time to give some of these cool vibes back to the island.
It's time for The Buccaneers – Reggae from di Alps.
Since more than 10 years The Buccs are touring through the clubs, concert halls and festivals in Europe and are well-known for their cool and solid Roots-Groove-Reggae-Riddim-Attack.
So chill, shake, move, sing, dance and groove to the music of the Buccaneers like "Fisherman", "Jah-Jah is Great", "Feeling Irie", "My Lovely Life", "Wood of Weed"... or their famous roots-interpretations of songs like "Roxanne", "Brick in the Wall", "Take a letter Maria", "I shall be released"…come and get it!
The Buccaneers are:
Captain Joe Morgan • lead vocals
Rastaman Albert • roots drums, vocals
Sista Vee • acoustic riddim guitar, vocals
Bushdoctor Bassix • bass
Mr. Ampfarm • lead guitars