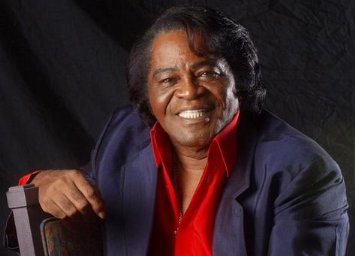 James Brown
was born in Barnwell, South Carolina, as an only child in 1933. His father was a filling station attendant. When James was four, his parents separated and he grew up in the brothel of his aunt, a poor woman in Augusta, Georgia. Brown left school in the seventh grade. He picked cotton, was a shoe-shine boy, washed cars and dishes and swept out stores. At the age of 16, he took part in an armed robbery and was caught breaking into a car. James was sentenced to eight to sixteen years' hard labor. He served a short period in the county jail before being transferred to juvenile work farms. He spent three years in a community home.
Afterwards, he tried to work as a boxer. His ambitions to make a career as a baseball pitcher ended with a leg injury. He had been a pitcher for the prison team and that's where he first met Bobby Byrd who played against him in a local game. James Brown started to work with pianist Bobby Byrd in bars and clubs in Toccoa, Georgia. Little Richard's manager Clint Brantley took him under contract and sent him to the Twospot Nightclub in Macon, Georgia. During the day, he worked at Lawson's Motor Company in town, in the evenings, he worked as a drummer and organ player in the club's house band which accompanied Bill Johnson, the Four Steps of Rhythm and the Gospel Starlighters. At that time, they switched from gospel to r&b which was then in the air. Later, James Brown became a member of Bobby Byrd's gospel group Three Swanees which became the Swanee Quintet and later the Swanees. In 1955, the singer Sylvester Keels and the guitarist Nafloyd Scott where part of the group. The band toured Georgia and developed into the Famous Flames, a black music revue in which all members had at least to play two instruments and to act as dancers and singers. In 1956, James Brown took over the direction of the Famous Flames which consisted of Keels and Scott, but also Johnny Terry and Nashpendle Knox (both vocals), Wilbert Smith and Ray Felder (both saxophone), Clarence Mack (bass) and Edison Gore (drums).
The Famous Flames caught the attention of King Records and, in April 1956, they released the single Please, Please, Please which soared into the R&B top ten. James Brown rapidly made himself the center of the revue. In 1958 record sales dropped and King Records threatened to cancel the contract if the next single did not become a did. Try Me was released in September 1958 and became a #58 hit in the US charts and a #1 in the r&b charts. It was the beginning of James Brown's career. On October 24, 1962, he performed at the Apollo and the recording Live At The Apollo, which he paid for himself since Syd Nathan did not want to advance money on a live record, made him a star. With the Famous Flames, now led by saxophonist J.C. Davis, he broke all concert records. Several months after its release, on June 29, 1963, the album entered the pop charts.
In 1964, James Brown had several hits in the US charts: Think (#33), Night Train (#35), Prisoner of Love (#18). His album Live at the Apollo climbed to US#2 and became the first LP in pop history to sell more than a million copies. Pure Dynamite was a US#10 album. "Mr. Dynamite" was another nickname for James Brown who was one of the first black stars to be able to break out of the black music ghetto and his band was the number one r&b attraction. His greatest hits of that period were Papa's Got A Brand New Bag (US#6, UK#21), I Got You (I Feel Good) (US#1, UK#18), It's a Man's World (US#3, UK#17), Cold Sweat (US#4), I Got The Feelin' (US#5), Say It Loud - I'm Black and Proud (US#9) and Mother Popcorn (US#7). His best selling albums in 1966 were I Got You (US#20) and in 1968 I Can't Stand Myself (US#16). Papa's Got A Brand New Bag earned him a Grammy. James Brown was able to buy a private jet, a villa, four radio stations, a restaurant chain, a moated castle and a music publishing house. He performed 300 times a year which made him "the hardest working man in showbiz".
James Brown transformed popular music. He not only added gospel dialogues and a jazzy saxophone played by Maceo Parker, but as well as being the "Godfather of Soul" he is the "Godfather of Funk" since he invented the style long before George Clinton came along. His decline began when musicians like Maceo Parker, Pee Wee Ellis, Fred Wesley and Bootsy Collins left him in order to join, with the exception of Ellis, George Clinton's bands Parliament and Funkadelic. The irony was that George Clinton had looked up to James Brown as his model. James Brown was also a role model for ghetto kids. He made political statements, donated money to colored organizations, supported programs against drug abuse and fought for the ideas of Martin Luther King.
In 1969, Look magazine called him "the most important black man in America", LeRoi Jones "our number one black poet". In 1970, James Brown's hits included It's a New Day (US#26), Brother Rapp (US#26), Get Up (I Feel Like Being A Sex Machine) (US#17, UK#20, Germany#29) and Super Bad (US#9). The album Sex Machine was a #24 hit in the United States. The same year, Mr. Dynamite married Deirdre Jenkins. Until 1974, James Brown stayed on the winning road with hit singles such as Hot Pants, Part 1 (US#14), Make It Funky, Part 1 (US#18), Good Foot, Part 1 (US#9), My Thang (US#30) and The Payback (US#27). The albums Hot Pants (US#20), Black Caesar (US#21) and Hell (US#24).
In the mid-1970s, the picture darkened. The IRS was was asking James Brown to pay $4,5 million back tax. He was involved in a radio station bribery scandal, his marriage broke up and his son Teddy died in a car accident. Until 1980, James Brown had only two more notable successes, the single Get Up Offa That Thing (US#49, UK#22) and the album Reality (US#53). The tax debt forced him to sell his radio station and his airplane. In order to overcome his financial difficulties, he had to tour Japan and Africa. Until then, he had sold over 100 million records.
James Brown became a victim of the disco revolution. A guest part in the cult movie The Blues Brothers in 1980 allowed him a comeback that led to a success with the title Rapp Payback (GB#30). The contract with Island Records was cancelled. He switched to RCA. In 1983 he had two singles in the UK charts, Bring It On - Bring It On (UK#42) and, together with Africa Bambaataa, Unity, Part 1 (UK#38).
In 1985, James Brown had a hit with the title song to Sylvester Stallone's Rocky IV. His patriotic hymn Living in America (US#4, UK#4, Germany#12) caught the attention of the teenagers, but not of his old fans. In the summer of 1985, Sex Machine was re-released and made it into the UK charts (#30). In February 1987, Living in America earned a Grammy. In 1986, together with Steve Winwood, Stevie Ray Vaughan and Alison Moyet, James Brown made the critically acclaimed album Gravity (Germany#23) which had no success with the public in the US and the UK. In 1988, the album I'm Real (US#96, UK#27, Germany#39) and its title song I'm Real (UK#31) sold better. The master of funk wanted to prove to the rap and hip-hop generation, who played his songs, that nobody could play his music like he himself.
In 1987, James Brown was arrested for drug abuse for the fifth time in ten months. His resistance to the police, an attack on his wife and the illegal possession of arms made it worse. In December 1988 he was convicted of the attempted murder of his wife and sent to prison for six years. [On February 9, 2001, Curtis Martin sent us the following comment: In the article on James Brown in your ish # 11 you state that JB was convicted of the attempted murder of his wife. He was in prison for threatening people in an office rental property of his, and then trying to evade the cops in a cross-state chase. Still not cool, but also not murder. Otherwise--very cool article. - Cosmopolis response: You are right: In 1988, Brown was accused by his wife of assault and battery. After a year of legal and personal troubles, he led the police on an interstate car chase after allegedly threatening people with a handgun. The episode ended in a six-year prison sentence; he was paroled after serving two years].
In April 1990, after only having spent 15 months at the State Park Prison in Columbia, South Carolina, James Brown was moved to a reintegration center for good conduct. During that period, he produced radio and television contributions warning against alcohol and drug abuse. In February 1991, he was released on the condition that he neither drove or possessed firearms.
In the summer of 1991, James Brown made his comeback on the scene of the Wiltern Theatre in Los Angeles. Together with a twelve-man band and a dynamic show, he enchanted a public which included Mick Jagger, Quincy Jones and MC Hammer. In November 1991, Sex Machine was released for the fourth time and made it to #69 in the UK. The album Love Over-Due was a return to his roots. In 1993 he received a Grammy for his life-time achievements. The same year, his album Universal James tried to reconcile tradition and contemporary styles by mixing soul with hip-hop. Neither the critics nor the public liked it. Only the single Can't Get Any Harder made it into the UK charts (#59). James Brown's latest release is the album I'm Back, 1998.