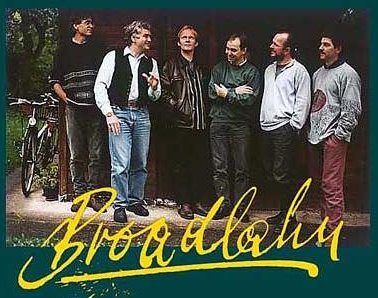 Broadlahn
ist eine sechsköpfige Band aus der Steiermark, die dem Genre der neuen Volksmusik zuzuzählen ist.
1982 wurde die Gruppe als Trio gegründet, aber schon bald gesellten sich zu den drei Volksmusikanten drei Jazzer hinzu.
Broadlahn verknüpfen alpenländische Volksmusik, Jazz und Ethnoklänge aus dem afrikanischen und asiatischen Raum zu einer faszinierenden Einheit.
Die sechs Musiker wurden 1993 mit dem Deutschen Kleinkunstpreis ausgezeichnet.
* Philipp Rottensteiner (Gesang, Violine, Mandoline, u. a.)
* Ernst Huber (Gesang, Gitarre, Steirische, Schwegelpfeife, u. a.)
* Josef Ofner (Gesang, Gitarre, u. a.)
* Reinhard Grube (Saxophon, Klarinette, u. a.)
* Franz Schmuck (Schlagzeug, Perkussion, Marimbaphon, Gesang)
* Reinhard Ziegerhofer (Bassgitarre, Kontrabass)
* * *

Broadlahn ist the Styrian dialect word for broad avalanche and also the name of a valley in the mountains of upper Styria (south-eastern province of Austria). Broadlahn is also the name of a Styrian band who try to create a new kind of Styrian folkmusic including influences from ethnic music from all over the world as well as Jazz, Funk,... The songs tell stories of farm hands as well as Abdullah Ibrahims spontaneous 'yodelsession' together with Styrian farmers.