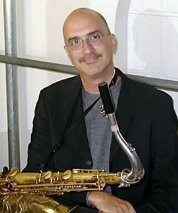 A remarkable technician and a highly influential tenor saxophonist (the biggest influence on other tenors since Wayne Shorter),
Michael Brecker
(Born: Mar 29, 1949 in Philadelphia, PA) took a long time before getting around to recording his first solo album. He spent much of his career as a top-notch studio player who often appeared backing pop singers, leading some jazz listeners to overlook his very strong improvising skills.
Brecker originally started on clarinet and alto before switching to tenor in high school. Early on, he played with rock and R&B-oriented bands. In 1969, he moved to New York, and soon joined Dreams, an early fusion group. Brecker was with Horace Silver during 1973-1974, gigged with Billy Cobham, and then co-led the Brecker Brothers (a commercially successful funk group) with his brother, trumpeter Randy Brecker, for most of the 1970s. He was with Steps (later Steps Ahead) in the early '80s, doubled on an EWI (electronic wind instrument), and made a countless number of studio sessions during the 1970s and '80s, popping up practically everywhere (including with James Taylor, Yoko Ono, and Paul Simon).
With the release of his first album as a leader in 1987 (when he was already 38), Brecker started appearing more often in challenging jazz settings. He recorded additional sets as a leader (in 1988 and 1990), teamed up with McCoy Tyner on one of 1995's most rewarding jazz recordings, and toured with a reunited Brecker Brothers band. Two Blocks From the Edge followed in 1998, and a year later, Brecker returned with Time Is of the Essence. Nearness of You: The Ballad Book was released in spring 2001.

* * *


Randy Brecker
is essentially a fine hard bop trumpet soloist, but one versatile enough to fit into nearly any setting, including in the pop world, funk bands, and electronic fusion.
He studied classical trumpet and attended Indiana University. Brecker was with Blood, Sweat & Tears in 1967, and spent 1968-1969 playing with Horace Silver's quintet. He also appeared with the big bands of Clark Terry, Duke Pearson, Frank Foster, and the Thad Jones/Mel Lewis orchestra.
After playing with the early fusion group Dreams in 1969, he worked with Larry Coryell's Eleventh House and Billy Cobham, in addition to keeping very busy with studio work. He teamed up with Michael Brecker in the popular funk-oriented Brecker Brothers (1974-1979); in the 1980s often collaborated with his wife, pianist/vocalist Eliane Elias; and in the '90s toured with the reunited Brecker Brothers. But Randy Brecker still sounds best when in a freewheeling bebop combo, and fortunately he occasionally records in that type of spontaneous setting.
Scott Yanow, All-Music Guide