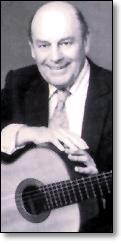 Julian Bream
is one of the greatest guitarists the world has known. By the lime he was seventeen, although he had not played outside Great Britain, he was already known by reputation to guitarists all over the world.
Julian Bream was brought up in a musical environment. His father, a commercial artist and book illustrator, also ran a small dance band in which he played jazz guitar. The young Bream was very attracted to the jazz guitar style of Django Reinhardt, the legendary Gypsy guitarist. Bream's father encouraged his son to play the piano, but also taught him to play the plectrum guitar. On his eleventh birthday, Julian Bream was given a classical guitar by his father.
In 1945 Julian Bream won a junior exhibition award for his piano playing. This entitled him to study the piano and the cello at the Royal College of Music, London. In the same year his father took him to play at a meeting held by the London Philharmonic Society of Guitarists, where his obvious musical talent prompted Dr. Boris Perott, the Society's president, to offer to teach him the classical guitar. This he did for one year. Dr Perott, and also Wilfrid Appleby, introduced Julian Bream to Andrés Segovia, who was so impressed by what he heard that he offered to give the thirteen-year old some lessons.
Julian Bream made his professional debut in Cheltenham in 1947. Encouraged by his father, he decided to make his career in music and the guitar, abandoning an almost equally strong ambition to become a professional cricketer. At the age of fifteen he was awarded a full scholarship at the Royal College of Music, and for three years studied piano, harmony and composition there - for il was a time when no guitar tuition could be offered by the College.
Great critical acclaim greeted his debut in the Wigmore Hall, London, in 1951. Despite three years in the British Army (1952-55), he continued to appear frequently on radio and television programmes as well as at public concerts. His first European tours took place in 1954 and 1955, and were followed by extensive touring in North America (beginning in 1958), the Far East, India, Australia, the Pacific Islands and other parts of the world. In addition to masterclasses given in Canada and the USA, Bream has also conducted an international summer school in Wiltshire, England.
Julian Bream's many recordings for RCA have made him well known to a large worldwide audience and have won for him some of the highest awards in the recording industry. They include the Award of the National Academy of Recording Arts and Sciences, two Grammy awards (1963 and 1966), and an Edison award (1968). In the Queen's Birthday Honours List of 1985 bc was made a Commander of the Order of the British Empire (C.B.E.).
Since 1952, when he played part of a Wigmore Hall recitai on the lute, Julian Bream has also been noted for his playing of this instrument, and is responsible for bringing to light much of its music which had lain dormant for over three hundred years. He bas also done much to broaden the contemporary guitar repertoire by commissioning works from such famous composers as Benjamin Britten, William Walton, Hans Werner Henze, Peter Racine Fricker, Richard Rodney Bennett, Malcolm Arnold, Alan Rawsthorne, Lennox Berkeley and Michael Tippett. Il is safe to say to that no guitarist has ever done more to enrich the repertoire in this way.
Bream's association with his fellow guitarist John Williams, which resulted in three recordings and a number of concerts, bas been an enormous success. BBC Television have presented a special programme about Julian Bream's life as a concert guitarist, and also a series of four masterclasses presented by Bream for guitarists. Channel 4 Television produced a series of six half-hour programmes on the classical guitar by Bream, entitled iGuitarra! (see DVD 'Guitarra')
In October 2003 was released a new DVD called 'Julian Bream - My Life in Music' in which we have the chance to hear (and see) him expressing in their details the episodes of his life completely dedicated to the Music