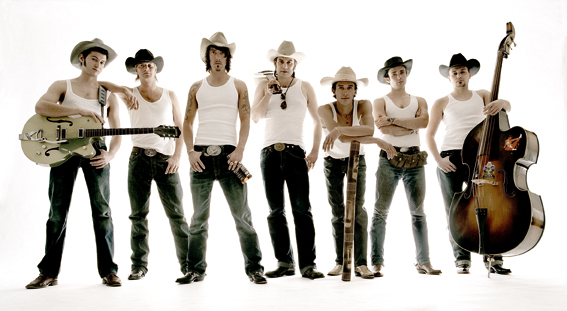 My name is Randy Westwood and I want to introduce one of the most influencial bands in the history of good music to you now. Sure as shootin, I´m talking about the BossHoss fellas- and now it´s time to welcome you to the stud barn of the bosshoss ranch!
Boss Hoss
are pleased to have you here as their guest on this new-fangeled modern medium, the internet. I wanna tell you a little bit about this band so you´ll understand what I´m talking ´bout:
First of all I want to introduce all the band members, because BossHoss is proud to have them in the gang, and if you ask me - they´re the best musicians in the whole wide world! Darn tooten!
Russ T. Nail: the crazy english man is playing the electric axe
Guss Brooks: the philly rusteler is playing the upright stand-up-bass-fiddle
Frank Doe: the rank is beating up the skins like a red-headed stepchild.
Hank Doodle: we call him shorty- is playing the mandoline, harp, washboard and the melo just for the girls.
Hoss Power: does some crooning and he plays the rhythm guitar, too
Boss Burns: is mesmerizing with his deep swamp voice
Ernesto E.d.T: every now and then he crosses the hell of the Prairie and beats his donkey, armed with melo and percussion devieces
Boss and Hoss wrote many a famous songs in the way back for a lot of upcoming talents in the so called modern music industry. Now they´re proud to present you the original versions of these little dittys to get you back on track to acquiring some taste in sweet old time music.
Boss met Hoss many years ago down in the Yapaku valley, while hoss was rescuing a young calf out of a raging river.
Boss appeared like a lone wolf out of the prairie and threw down his lariat from an old wooden bridge to help ole Hoss out. After the calf had been rescued, covered in mud and weary after a long day on the trail, they shared a tasty helpin of tined beans over an open fire. Hoss looked up to boss and as he saw his lean dark eyes, his own widened. "I took one look at him and said, "man, if you can hum, you´re a star- let´s start us up a band!". Then Hoss pulled out his guitar and they started playing and singing. "we wrote 12 songs that very night", recalls Boss.
So , after a series of bar brawls and a lady friend or two between them they've decided to try their luck on the trail. If you're lucky ya may get a chance to see bosshoss swager into your outpost soon to play what they play best - internashville urban hymes. Yeeehaw!
Randy Westwood