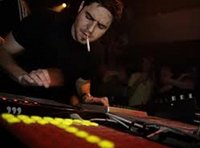 Gui Boratto (born 1974 in São Paulo) is a Brazilian electronic music producer. In the 1990s he was a member of Sect. His album Chromophobia was awarded the title of Mixmag Album of the Month. Regarding why he chose the name Chromophobia, Boratto said: "The same meaning as monochromatism in architecture, which means simplicity. That's all. I don't have a morbid fear of colors at all. But also, I was ironic. My music is really colorful."

On stage, Gui uses a laptop equipped with Ableton Live, a JazzMutant Lemur, a monome and an Evolution Uc33e. He sometimes invites a guitar player to join him. Boratto handles A&R for the Brazilian independent label, Megamusic (distributed by Trama); he is also one of the label's owners, along with his brother Tchorta.

In 2005 he began to dedicate himself to his own productions and compositions, displaying a more personal side to the public. With releases on a number of respected European labels, such as Plastic City, Circle, Kompakt, and Audiomatique, Boratto has managed to appear in the charts and on the playlists of Michael Mayer, Tiefschwarz, Steve Bug, Phonique, Martin Landsky, Hernan Cattaneo, among others.
With respect for his talent growing in the world scene, Gui Boratto is a name to look out for on the Brazilian house, techno and minimal scene.
Official Site:
www.guiboratto.com.br