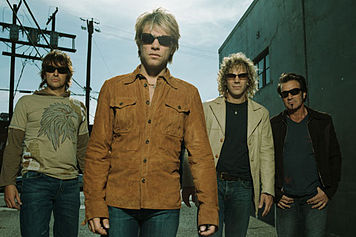 John Francis Bongiovi Jr. was born March 2nd, 1962 at 8:45 pm in Perth Amboy, New Jersey, USA. Bon Jovi was one of the most successful rock bands of the 1980s, and one of the few pop-metal groups to maintain their popularity into the '90s. Originally, Jon Bongiovi worked as a janitor in his cousin Tony's New York City recording studio, The Power Station. In 1980 he sang on "R2-D2 We Wish You a Merry Christmas" from Christmas in the Stars: Star Wars Christmas Album. At the studio, Bongiovi convinced Billy Squier to produce his demo tape. One song, "Runaway," received airplay on local radio stations. He formed a band to support the song with keyboardist David Bryan, guitarist Dave Sabo, bassist Alec John Such and drummer Tico Torres. The success of the "Runaway" led to a label bidding war, and the group signed to Polygram/Mercury in 1983. Bongiovi also changed the spelling of his name to Bon Jovi, which would also serve as the band's name. Before Bon Jovi entered the studio, they replaced Sabo with Richie Sambora.

Bon Jovi's self titled debut album was released in 1984. "Runaway" reached the US Top 40. The follow up album, 7800 Fahrenheit was released in 1985 and went gold. For their next album, Bon Jovi collaborated with songwriter Desmond Child and the results were hugely successful. Slippery When Wet became the biggest selling album of 1987, selling 9 million copies. Two songs, "You Give Love a Bad Name" and "Livin' on a Prayer," hit US #1 and reached the UK Top 20 and Top 5 respectively. "Wanted Dead or Alive" reached the US Top 10 and UK Top 20. Bon Jovi's follow up two years later, New Jersey, was also huge. It sold 5 million copies, had two US #1 singles, "Bad Medicine" and "I'll Be There for You," as well as the three more US Top 10 hits: "Born To Be My Baby," "Lay Your Hands On Me," and "Living In Sin." Following an eighteen-month tour, the band went on hiatus. During their break, Jon Bon Jovi recorded the soundtrack to Young Guns II, which was released in 1990 as the Blaze of Glory album. The record produced the US #1 title track and another Top 15 hit, "Miracle."

During the 1990s, most of Bon Jovi's fellow pop-metal groups fell off the commercial map in the wake of grunge and alternative's popularity. Bon Jovi managed to stay a commercial force. 1992's Keeping the Faith, 1994's Cross Road compilation, 1995's These Days, and 2000's Crush all topped the UK charts and reached the US Top 10. "Keep The Faith," "Bed of Roses," "Always," "This Ain't A Love Song," and "It's My Life" were all big hits in both the US and UK. Jon Bon Jovi's 1997 solo album, Destination Anywhere, was also big in the UK. The album and single, "Midnight in Chelsea," reached the UK Top 5.
Official Homepage: www.bonjovi.com