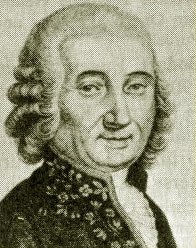 Born seven years before Bach died, and 23 before Beethoven was born,
Boccherini
lived after the great Johann Sebastian had developed the Baroque style to its highest level, and before the composer was born who would bring the Classical style to its highest level - Beethoven.
The Baroque period (other notable Baroque composers include Vivaldi and Handel) was characterized by a musical form called polyphony. In polyphony, all melodic lines have the same importance. Listen, for example, to a fugue by Bach on this site, and you will hear such an intertwining of parts that it will be frequently difficult to single out the main tune. Boccherini, along with his contemporaries (including Haydn), took a different compositional direction. They ushered in the classical period by writing pieces where the melody is easy to pick out and consists mainly of melody and accompaniment or, to say it in another way, the right hand and left hand of the piano. By way of comparison, select any work by Boccherini, Haydn, or Hummel (try his Trumpet Concerto) and you'll hear the difference right away.
Boccherini's output was considerable and includes 91 string quartets, (by way of comparison, Haydn wrote 84, Mozart 23, and Shostakovich 15); 30 symphonies (Haydn wrote 104, Mozart 41, and Shostakovich 15) ; 137 quintets for various combinations of strings, multitudes of trios, keyboard quintets, sextets, and sonatas; two operas, and a mass. Perhaps his most well known work is the Minuet you can listen to in the Classical Music Archives. It is actually a movement from his Quintet for Strings in E major, Op.13 No.5
Boccherini's father was a professional double bass player and began teaching young Luigi cello at a very early age (fatherly pride had to be put aside since the bass would have simply been too large for the toddler to handle). The younger Boccherini played briefly in the professional orchestra of another Italian composer, Giovanni Battista Sammartini, before traveling at age 14 to Vienna, where he first heard the music of Franz Joseph Haydn. "Papa" Haydn's musical influence on Boccherini was to become so pervasive that music lovers at that time proclaimed Boccherini to be "the wife of Haydn." At the same time, it is Boccherini's beautiful sense of sound and texture, and relatively less interest in thematic material as an end unto itself, that distintinguishes him from Haydn. His musical essence being more about sound than ideas, we might consider Boccherini as the impressionist of his era.
Boccherini and cello The same year, 1747, he was sent to Rome to perfect his technique and, after a year's study, returned to his native Lucca as a virtuoso cellist. At the same time Boccherini revealed his talents as a composer by giving a special concert of his works with the violinist Filippo Manfredi. The success of this concert was so great that they decided to tour principle cities of France, reaching Paris in 1768. He was hailed as a great virtuoso and his works were widely published and became extremely popular. In 1769 the Infante Don Luis invited him to Madrid to become his court chamber music composer. Here he remained until the Infante's death in 1789, when he was appointed court composer to Freidrich Wilhelm II of Prussia. He returned to Madrid in 1797, where ill health necessitated his complete retirement from his violincello playing, and the death of his two sons discouraged him form composing. Finally, in 1800, he secured the patronage of Napoleon's brother, Lucien Bonaparte, then the French ambassador to Madrid. He held this position until, virtually forgotten, he died on May 28, 1805.
Boccherini and Haydn are generally credited with established the string quartet form; to hear how this form developed, listen to the Classical Music Archives files of quartets by Haydn, Beethoven, and Debussy. During their lives, the reputation of Boccherini actually rivaled that of Haydn. Today, Haydn's string quartets and symphonies are performed far more often than those of Boccherini, but we are still charmed by the melodic invention of the Italian composer's music, as well as its lyricism, elegance, and refinement. While few of his compositions are regularly performed, almost every cello student becomes familiar with the composer's B Flat Concerto, and most flute students will play his Concerto in D Major. Classical guitarists are grateful, too, for his inclusion of their instrument in many quintets for string quartet and guitar.
Copyright © Classical Archives, LLC. All rights reserved.