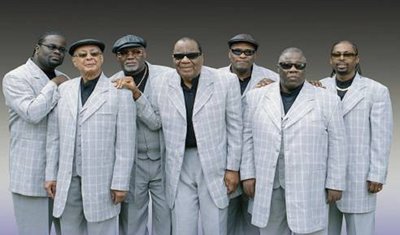 The Blind Boys of Alabama are a gospel group from Alabama that first formed at the Alabama Institute for the Negro Blind at Talladega, Alabama in 1939. The three main vocalists of the group and their drummer/percussionist are all blind.

Band member Jimmy Carter explained the story behind the band's name:

"In the beginning we weren't The Blind Boys; we were called the Hackerland Jubilee Singers. What happened was there was another blind group from Mississippi called the Jackson Harmineers. We were both invited to a battle of music, and the DJ, to promote his program, used the gimmick, "The blind boys of Mississippi gonna battle the blind boys of Alabama." It stuck and that's how we got the name The Blind Boys of Alabama."

As of 2010, The Blind Boys of Alabama continue to tour nationally and internationally, with Jimmy Carter singing lead vocals. In 2006, Clarence Fountain, the group's former long-time lead vocalist and founding member limited his touring for health reasons. Founding member George Scott died on March 9, 2005 at the age of 75. Another founding member, Johnny Fields, died on November 12, 2009.

Releases by the group in recent years have been favorites at the Grammy Awards—they won the Grammy Award for Best Traditional Soul Gospel Album four straight years between 2002 and 2005. The Blind Boys of Alabama were inducted into the Gospel Music Hall of Fame in 2007. In 2009, they were awarded the Grammy Lifetime Achievement Award.

In April 2011, the band released Take The High Road in Australia and followed it with a headlining tour that included the East and West Coast Bluesfest and the Sydney Opera House. The CD, which was also released in the U.S. on May 3, features guest artists Willie Nelson, Vince Gill, Lee Ann Womack, Hank Williams, Jr., The Oak Ridge Boys, and Nashville heavyweight Jamey Johnson, who also co-produced the record.

Current members:
Jimmy Carter – vocals
Bishop Billy Bowers – vocals
Ben Moore - vocals
Eric "Ricky" McKinnie – drums, percussion, vocals
Joey Williams – lead guitar, vocals
Tracy Pierce – bass
Peter Levin - organ
Clarence Fountain – tours with the group as his health allows

Founding members:
Clarence Fountain - vocals
Johnny Fields (deceased) - vocals
George Scott (deceased) - vocals
Ollice Thomas (deceased) - vocals
Vel Bozman Traylor (deceased) - vocals

Past members:
Caleb Butler – rhythm guitar
Samuel Butler Jr - rhythm guitar, song writer and arranger, manager, second lead singer
Roscoe Robinson (lead vocals)

Lamont Blount-- (deceased) band manager