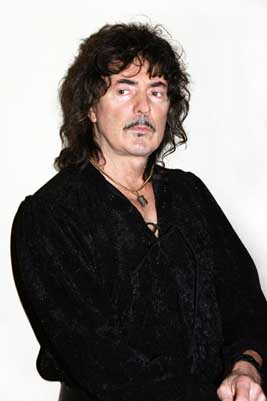 Some people seem as if they were born to be great players. The minute an instrument is thrust into their fledgling hands, they take to it like a second skin, shedding the darkness of ignorance in favor of the light of musical prowess. No so for
Ritchie Blackmore
. Although he had strong motivation to improve ("When I was eleven I had an acoustic guitar, and my father threatened me with it. He said, 'If you don't learn this instrument, I'll smash it over your head!'"), his first few years were a struggle. Classical lessons didn't help much either.
But at 13, he was drawn to the fretting prowess of English artists like Hank Marvin of the Shadows, and Gene Vincent's guitarist Cliff Gallup. American rockers Duane Eddy, Buddy Holly, and others also caught his ear. Hours spent learning their guitar parts paid off, and he began to get the hang of it. The real turning point, though, was his discovery of country pickers: Chet Atkins, Speedy West, Jimmy Bryant and their compatriots impressed young Blackmore with their speed and adept flatpicking techniques. He worked hard to develop the same qualities in his playing, and thus acquired much of the quick picking and double note riffing that characterizes his style to this day.
Although it still wasn't easy, he worked hard, coming home from school as soon as possible and putting in up to eight hours of practice every day. He even slept with his guitar. "I didn't know whether it was safer to keep the guitar in the bed or underneath it," Blackmore recalls. "Either way I was afraid I'd break the thing." By the time he reached 16, the devotion to and subsequent mastery of fast, complex riffing led to session work – often sharing studio dates with Jimmy Page – and stints with the theatrical rock group Screaming Lord Sutch. He eventually tired of session work and moved to Hamburg, playing with several bands, and meeting organist
Jon Lord
and drummer
Ian Paice
, with who he would form
Deep Purple
.
At first the band (which included bassist
Nicky Simper
) was fronted by lead singer
Rod Evans
. Their first album,
Shades of Deep Purple
, gave them a Top Five hit in the US in 1968: "Hush," a Joe South cover; they scored another US hit in 1969 with Neil Diamond's "Kentucky Woman" from The Book of Taliesyn, released only in the States. Following their third album,
Deep Purple
, their American label folded and the group made the first of their many personnel changes. After seeing a young
Robert Plant
singing in a club, Blackmore decided, "We've got to have a singer who can compete with this guy," and Evans was replaced by
Ian Gillan
, while Simper was replaced by bassist
Roger Glover
. Following 1970's
Concerto for Group and Orchestra
, the new lineup began moving away from the more classical organ sound of their early albums and towards a more guitar-driven, aggressive-vocals "metal' sound, which was evident on their 1970 release,
Deep Purple in Rock
and 1971's
Fireball
, both successful albums. It was 1972's
Machine Head
that earned them their place in rock history, with the enduring hit "Smoke on the Water," as well as "Space Truckin'" and "Highway Star."
Who Do We Think We Are in
1973 gave them the hit "Woman From Tokyo," but Gillan and Glover left the band, to be replaced by
David Coverdale
and
Glenn Hughes
for 1974's Burn and Stormbringer.
In 1974, Blackmore left Deep Purple and formed
Ritchie Blackmore's Rainbow
with a New York band called Elf and its lead singer,
Ronnie James Dio
. Deep Purple endured for another year or so before officially disbanding. For nearly ten years Rainbow was a fairly successful band, especially in the UK, and endured many personnel changes, but in 1983 Blackmore dissolved it to reform Deep Purple with Gillan, Glover, Paice and Lord, and they recorded their comeback album,
Perfect Strangers
, which went platinum. Blackmore continued with Deep Purple through several more albums, during which Gillan left and returned (replaced by Rainbow's
Joe Lyn Turner
in the interim), but Ritchie left the group during the supporting tour for 1992's
The Battle Rages On…
, citing displeasure with Gillan's performance. Following his second departure from Deep Purple, Blackmore reformed Rainbow in 1994, recording and touring with them throughout 1995, 1996 and 1997.
In '96 he began moving in a new direction, without Rainbow. Teaming up with vocalist and lyricist
Candice Night
, they released the acoustic Renaissance album Shadow of the Moon as
Blackmore's Night
, and followed it up in 1999 with Under a Violet Moon and 2001's Fires at Midnight. Taking a decidedly different turn from the usual rock tour, Blackmore's Night has instead undertaken "castle tours" of Europe, in which they play special evenings in medieval and Renaissance castles, as well as fairs and smaller venues.

* * *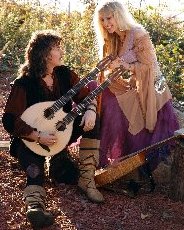 Following his global success as Deep Purple and Rainbow's guitarist and main composer, Ritchie Blackmore changed his musical form of expression in the mid-Nineties and founded
Blackmore's Night
together with his partner,
Candice Night
. Fans and press were equally fascinated by their 1997 debut album,
Shadow Of The Moon
, with its successful mix of wonderful melodies and magnificent guitar parts. "In the beginning, my fingers were not used to the acoustic guitar," Blackmore recalls the early stages, which apparently were not so easy for him. "With Deep Purple we often played wild stuff, which never seemed to sound wrong. You just let your guitar howl and whimper, and people were deeply impressed. An acoustic guitar requires a totally different technique." Shadow Of The Moon stayed in the German album charts for 17 weeks and went gold in Japan. The band toured churches, opera houses, theatres and castles all over the world with their next release,
Under A Violet Moon
, out in spring 1999, which went to no. 20 in Germany and to no. 12 in the Japanese charts.
Their 2001 release,
Fires At Midnight
, marked a continuation of their success and went to no. 9 in the German album charts (no. 20 in Japan), impressing fans and media alike. Past Times With Good Company (2002) was the first live album by Blackmore's Night, followed twelve months later by the studio recording Ghost Of A Rose, featuring new material. The 2004 release,
Beyond The Sunset - The Romantic Collection
, brought together the most beautiful ballads from the early years. Then followed an all-embracing double DVD, entitled
Castles And Dreams
, with almost four hours playing time.