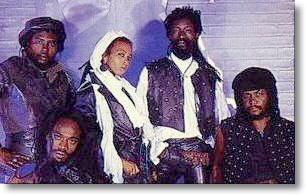 The most successful of the second-generation reggae bands,
Black Uhuru
maintained their high quality despite numerous personnel changes in their 16-year history. The first reggae band to win a Grammy award, for their 1983 album Anthem, Black Uhuru was, according to Reggae: The Rough Guide, "The most dynamic and progressive reggae act of the 1970s and early '80s."
Black Uhuru, whose name comes from the Swahili word meaning "freedom," was formed in the Waterhouse district of Kingston by
Ervin "Don Carlos" Spencer
,
Rudolph "Garth" Dennis
, and
Derrick "Duckie" Simpson
. When the group experienced difficulties securing a record contract, Spencer left to pursue a solo career and Dennis joined the Wailing Souls. Simpson, who remained the thread throughout Black Uhuru's evolution, reorganized the band with
Errol "Jay" Wilson
and quivery-voiced lead vocalist
Michael Rose
, compared by Trouser Press to "a Rasta cantor." Accompanied by the rhythm section of
Sly Dunbar
on drums and
Robbie Shakespear
on bass, Black Uhuru created a sound that made them a match for any reggae ensemble. Their debut album, Love Crisis, released in 1977, included the anthemic hit "I Love King Selassie." Three years later, the album was remixed and released as Black Sounds of Freedom.
With the addition of harmony singer Sandra "Puma" Jones, an Afro-American woman who held a master's degree from Columbia University and was a former member of the female group Mama Africa in 1981, Black Uhuru entered their most commercially successful period. In addition to recording a memorable studio album, Red, and an exciting live album, Tear It Up, the group reached its peak with the release of Anthem in 1983. Remixed and revised for release in the United States, the redone version was re-released in Europe shortly afterwards. Although the album received a Grammy, internal problems caused the band to splinter the following year. Rose was replaced by sound-alike Junior Reid. Jones and Reid remained with the band until 1989. Although Reid left when visa problems prevented him from touring, Jones, who was replaced by Olefunke, was forced to step down after being diagnosed with cancer. She died on January 28, 1990, and was buried in her home state of South Carolina. The original three members -- Simpson, Spencer and Dennis -- reunited to record a trio album, Now, in 1990. They've continued to tour and perform in this configuration.
Craig Harris, All Music Guide