..:: audio-music dot info ::..

Björk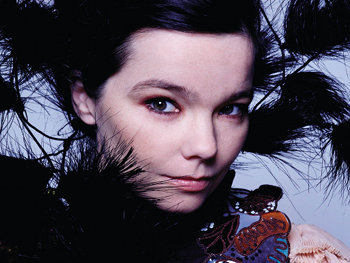 Björk Guðmundsdóttir (born 21 November 1965), known simply as Björk, is an Icelandic alternative rock-electronica singer-songwriter. Her eclectic musical style has achieved popular acknowledgement and popularity within many musical genres, such as rock, jazz, electronic dance music, classical and folk. Her voice has been acclaimed for its distinctive qualities.
Björk's 1990s singles "It's Oh So Quiet", "Army of Me" and "Hyperballad" charted in the UK Top 10. Her record label, One Little Indian, reported that by 2003 she had sold more than 15 million albums worldwide. She has acquired a high level of critical acclaim. She has won four BRIT Awards, four MTV Video Music Awards, one MOJO Award, three UK Music Video Awards and in particular, she received, in 2010, the Polar Music Prize from the Royal Swedish Academy of Music, in recognition for her "deeply personal music and lyrics, her precise arrangements and her unique voice".
Additionally, Björk has been nominated for 13 Grammy Awards, one Academy Award and two Golden Globe Awards. For her performance in Dancer in the Dark, Björk won the Best Actress Award at the 2000 Cannes Film Festival. She was ranked #36 on VH1's "The 100 Greatest Women in Rock and Roll" and #8 on MTV's "22 Greatest Voices in Music".

Björk's music style tends to be quite eclectic and often challenging. She has embraced many genres throughout her career, creating a varied range of pieces, from big band music to sound art. Björk's lyrical themes range from personal matters to scientific, natural, or social topics.

Björk is a "robusto" soprano, which means she has a voice which is particularly marked by a certain fullness of sound with a light timbre, but without losing the projection or volume of it. Her vocal range covers three octaves, going from F3 to E6, but she tends to use her chest and mid voice more often, using her head voice particularly during vocal games in live concerts. Her singing style is largely based on improvisation and natural expression, letting her voice perform long vocal acrobatics while performing. Classical composer John Tavener has praised Björk as being "more intelligent than most opera singers", music critic Alex Ross has cited Björk as one of the most gifted voices nowadays. The National Public Radio counted Björk among its list of "50 Great Voices" and MTV included her on its countdown "22 Greatest Voices in Music".

Currently, Björk trains her voice with vocal coach Maureen Scott from the British Voice Association.

Official Site: www.bjork.com


Homogenic (One Little Indian, 1997)