William "Count" Basie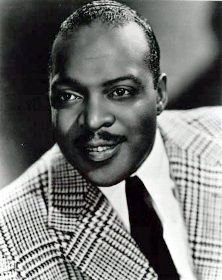 Born

William Allen Basie

, 21 August 1904, Red Bank, New Jersey, USA, d. 26 April 1984, Hollywood, California, USA. Bandleader and pianist Basie grew up in Red Bank, just across the Hudson River from New York City. His mother gave him his first lessons at the piano, and he used every opportunity to hear the celebrated kings of New York keyboard - James P. Johnson, Willie "The Lion" Smith and especially Fats Waller. Ragtime was all the rage, and these keyboard professors ransacked the European tradition to achieve ever more spectacular improvisations. The young Basie listened to Fats Waller playing the organ in Harlem's Lincoln Theater and received tuition from him. Pianists were in demand to accompany vaudeville acts, and Waller recommended Basie as his successor in the Katie Crippen And Her Kids troupe, and with them he toured black venues throughout America (often referred to as the "chitlin' circuit"). Stranded in Kansas City after the Gonzel White tour collapsed, Basie found it "wide-open". Owing to the laissez-faire administration of Democrat leader Tom Pendergast, musicians could easily find work, and jazz blossomed alongside gambling and prostitution (many people trace the origins of modern jazz to these circumstances - see Kansas City Jazz).

Basie played accompaniment for silent movies for a while, then in 1928 joined Walter Page's Blue Devils, starting a 20-year-long association with the bassist. When the Blue Devils broke up, Basie joined Bennie Moten, then in 1935, started his own band at the Reno Club and quickly lured Moten's best musicians into its ranks. Unfettered drinking hours, regular broadcasts on local radio and Basie's feel for swing honed the band into quite simply the most classy and propulsive unit in the history of music. Duke Ellington's band may have been more ambitious, but for sheer unstoppable swing Basie could not be beaten. Impresario John Hammond recognized as much when he heard them on their local broadcast. In January 1937 an augmented Basie band made its recording debut for Decca Records. By this time the classic rhythm section - Freddie Green (guitar), Walter Page (bass) and Jo Jones (drums) - had been established. The horns - which included Lester Young (tenor saxophone) and Buck Clayton (trumpet) - sounded magnificent buoyed by this team and the goadings of Basie's deceptively simple piano. Basie frequently called himself a "non-pianist"; actually, his incisive minimalism had great power and influence - not least on Thelonious Monk, one of bebop's principal architects.

In 1938, the band recorded the classic track "Jumpin' At The Woodside", a Basie composition featuring solos by Earle Warren (alto saxophone) and Herschel Evans (clarinet), as well as Young and Clayton. The track could be taken as a definition of swing. Basie's residency at the Famous Door club on New York's West 52nd Street from July 1938 to January 1939 was a great success, CBS broadcasting the band over its radio network (transcriptions of these broadcasts have recently been made available - although hardly hi-fi, they are fascinating documents, with Lester Young playing clarinet as well as tenor). This booking was followed by a six-month residency in Chicago. It is this kind of regular work - spontaneity balanced with regular application - that explains why the recorded sides of the period are some of the great music of the century. In 1939 Basie left Decca for Columbia Records, with whom he stayed until 1946. Throughout the 40s the Count Basie band provided dancers with conducive rhythms and jazz fans with astonishing solos: both appreciated his characteristic contrast of brass and reeds. Outstanding tenors emerged: Don Byas, Buddy Tate, Lucky Thompson, Illinois Jacquet, Paul Gonsalves, as well as trumpeters (Al Killian and Joe Newman) and trombonists (Vic Dickenson and J.J. Johnson). On vocals Basie used Jimmy Rushing for the blues material and Helen Humes for pop and novelty numbers. Economic necessity pared down the Basie band to seven members at the start of the 50s, but otherwise Basie maintained a big band right through to his death in 1984. In 1954 he made his first tour of Europe, using arrangements by Ernie Wilkins and Neal Hefti. In June 1957 Basie broke the colour bar at New York's Waldorf-Astoria Hotel; his was the first black band to play there, and they stayed for a four-month engagement. The 1957 The Atomic Mr. Basie set Hefti's arrangements in glorious stereo sound and was acknowledged as a classic. Even the cover made its mark: in the 70s Blondie adapted its period nuclear-chic to frame singer Deborah Harry.

In 1960, Jimmy Rushing left the band, depriving it of a popular frontman, but the European tours continued - a groundbreaking tour of Japan in 1963 was also a great success. Count Basie was embraced by the American entertainment industry and appeared in the movies Sex And The Single Girl and Made In Paris. He became a regular television guest alongside the likes of Frank Sinatra, Fred Astaire, Sammy Davis Jnr. and Tony Bennett. Arranging for Basie was a significant step in the career of Quincy Jones (later famous as Michael Jackson's producer). The onslaught of the Beatles and rock music in the 60s was giving jazz a hard time; Basie responded by giving current pop tunes the big band treatment, and Jones arranged Hits Of The 50s And 60s. Its resounding commercial success led to a string of similar albums arranged by Billy Byers; the brass adopted the stridency of John Barry's James Bond scores and, unlike the work of the previous decades, these records now sound dated. In 1965, Basie signed to Sinatra's Reprise Records, and made several recordings and appearances with him.

By 1969 most of Basie's original sidemen had left the band, though Freddie Green was still with him. Eddie "Lockjaw" Davis (tenor) was now his most distinguished soloist. The arranger Sammy Nestico provided some interesting compositions, and 1970 saw the release of Afrique, an intriguing and unconventional album arranged by Oliver Nelson with tunes by avant garde saxophonists such as Albert Ayler and Pharoah Sanders. In 1975, after recording for a slew of different labels, Basie found a home on Pablo Records (owned by Norman Granz, organizer of the Jazz At The Philharmonic showcases). This produced a late flowering, as, unlike previous producers, Granz let Basie do what he does best - swing the blues - rather than collaborate with popular singers. In 1983, the death of his wife Catherine, whom he had married 40 years earlier while he was with the Bennie Moten band, struck a heavy blow and he himself died the following year.

The later compromises should not cloud Basie's achievements: during the 30s he integrated the bounce of the blues into sophisticated ensemble playing. His piano work showed that rhythm and space were more important than technical virtuosity: his composing gave many eminent soloists their finest moments. Without the Count Basie Orchestra's sublimely aerated versions of "Cherokee" it is unlikely that Charlie Parker could ever have created "Koko". Modern jazz stands indubitably in Basie's debt. For newcomers to the work of Basie the Original American Decca Recordings is an unbeatable starting point.


Low life (Baur Music, 1997)
Jive at Five (A&R Production, 1999)