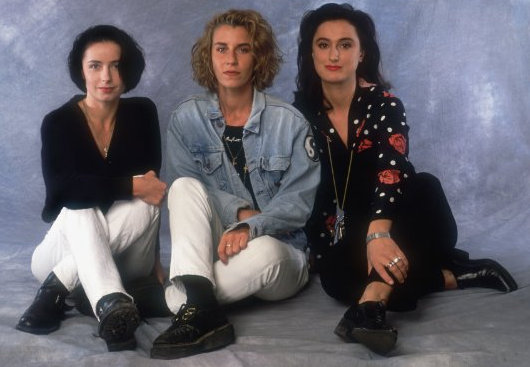 The most successful British girl group in pop history, Bananarama formed in London in late 1981. Drawing equal inspiration for their name from the children's television program The Banana Splits and the Roxy Music song "Pyjamarama," the trio comprised lifelong friends Keren Woodward and Sarah Dallin along with Siobhan Fahey, whom Dallin befriended at the London College of Fashion. After getting their start singing at friends' parties and at nightclubs (where they performed accompanied by backing tapes - none of the women played her own instrument), they came to the attention of ex-Sex Pistols drummer Paul Cook, who produced Bananarama's first single, a cover of Swahili Black Blood's "Aie A Mwana." After the group backed Fun Boy Three on the single "It Ain't What You Do, It's the Way You Do It," the Three returned the favor for 1982's "He Was Really Sayin' Somethin'," a cover of the 1965 Velvelettes song that was the first of Bananarama's 26 U.K. chart smashes.

While their initial hits, including "Shy Boy," "Na Na Hey Hey (Kiss Him Goodbye)," and "Cruel Summer" (their first U.S. smash) were roundly dismissed as fluffy pop fare, the success of 1984's rape-themed release "Robert DeNiro's Waiting" convinced the group to tackle more serious topics; however, the follow-up single, "Rough Justice" - a song protesting political tensions in Northern Ireland - bombed, and the trio's career stalled. In 1986, Bananarama's fortunes improved considerably when they joined forces with the production team of Stock, Aitken & Waterman, who produced the album Wow!; the group's most successful outing to date, the LP's cover of the Shocking Blue's "Venus" was an international chart-topper, and both "Love in the First Degree" and "I Heard a Rumour" were major hits as well.

In 1987, Fahey left the group after marrying Eurythmics' Dave Stewart; she later resurfaced as one half of the duo Shakespear's Sister. Woodward and Dallin, meanwhile, enlisted pal Jacquie O'Sullivan, formerly of the Sheilagh Sisters, to fill the void. After a long layoff, the revamped group teamed with new producer Youth to issue the 1991 album Pop Life, which featured a cover of the Doobie Brothers' "Long Train Running." Shortly after the album's release, O'Sullivan too exited, and Woodward and Dallin forged on as a duo for 1992's Please Yourself and 1995's Ultra Violet. After a brief hiauts, the group returned with 2005's Euro-dance-friendly Drama.