..:: audio-music dot info ::..

Baccara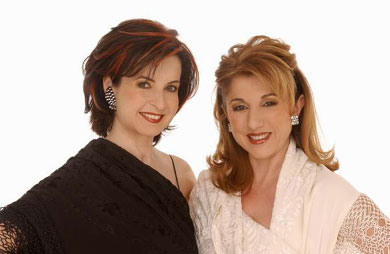 BACCARA - Spanish group two beautiful girls Mayte Mateus (Matee Matheos) and Maria Mendiola (Marie Mendiola). Mayte was born in 1951 on 3rd (7th?) of March, Maria in 1952 on 4th of April.

BACCARA's career started in 1977. Mayte, graduated as a teacher from the "Royal Spanish Academy for Arts, Drama and Dance" in Madrid, was selected to join the Spanish TV's Ballet Company and perform with them for several years. There she met Maria. The two of them decided to quit the ballet company and start working independently with their own show program. By accident -- or actually more because of a mistake -- they got sent to a night club as their first engagement. They sang and danced with all their heart and soul, but a week later they were asked to leave. "-Too elegant", was the commentary of the night club owner.

But Mayte and Maria didn't give up, they believed in themselves and in their success. They found a stage for themselves in the "Tres Islas" hotel on the Spanish island of Fuerteventura. Very soon, their energetic and lively show program had become the absolute highlight of the evening. "But we also performed classic flamenco pieces", Mayte remembers, "Since 90 percent of the guests were from Germany. And they loved to see the flamenco pieces." Maria and Mayte were performing flamenco and singing traditional Spanish songs in cabarets for tourists.

And so did the employee of the RCA record company in Hamburg, now BMG Ariola Hamburg GmbH. Leon Deane was so fascinated by the show on January 17th, 1977 that he spontaneously invited Mayte and Maria to come to Hamburg. Roughly a month later, the two arrived in Hamburg for first rehearsals with German composer/producer Rolf Soja. The bosses at RCA were so swept away by their talent and their voices that only six days later their first single, "Yes Sir, I Can Boogie" was recorded. The Girls officially started to work as BACCARA (Baccara - a kind of the rose)!

Their song "Yes Sir, I Can Boogie" (text and sound) immediately entered all the hit charts (BACCARA's official chart positions). All the TV stations wanted to include BACCARA in their program and do interviews. In just eight weeks, BACCARA had climbed to the top of the German charts. In no time at all, the whole world lay at their feet. This was "Life in the Fast Lane"! From Hongkong to Helsinki, BACCARA collected awards and prizes for top positions in the charts like other people collect stamps. For example: number one status in the UK and Germany. "Yes Sir, I Can Boogie", was the first Number 1 single in Europe, performed by a female duo, and the first by a Spanish singers until Julio Iglesias four years later! They sold more than 16 million singles of "Yes Sir, I Can Boogie". They reached a world-wide book of Guinness as the female group that had sold such more to 1977. In January 1978, "Darling" was a hit-single in most European countries.

The follow-up single "Sorry, I'm A Lady" also topped the German charts and in November 1977, BACCARA's first album was released all over the world. The first album was "Baccara" (RCA PL 28316, 1977) containing "Yes Sir, I Can Boogie" and also "Sorry, I'm A Lady". It got gold, double gold, platinum and double platinum. Baccara's second album was "Light My Fire" (RCA LS 70888, 1978) including: "Parlez-vous francais?", "La Bamba", "My Kisses Need A Cavalier", "Adelita", "Darling" etc. The third album "Colours" was released in 1979 (RCA PL 28380) with "Ay Ay Sailor", "One, Two, Three, That's Life", "Body Talk", "By 1999", etc. Hits was originally produced by Frank Dostal and Ralf Soja.

Baccara participated in the 8th edition of the Yamaha World Popular Song Festival (Tokyo - November, 11th, 1977), representing then West-Germany with the song "Mad in Madrid" (for example: special edition "The Hits of Baccara" and Japanese release Baccara SP!). In 1978 (on April 22nd) Mayte and Maria were represented Luxembourg during Eurovision Song Contest in Paris, France (song: "Parlez-vous francais", position: 7, 73 points / the winner was: Izhar Cohen and The Alphabeta from Israel, song: "A-Ba-Ni-Bi", 157 points).

In January 1979, "The Devil Sent You To Lorado" ("...Laredo" in Spanish) was a top ten hit in Germany. At the same time, a compilation album "The Hits Of Baccara" was released (date-1978!). "Body Talk" and "Ay, Ay, Sailor" were released as singles. Both tracks were taken from the third album, "Colours". The Girls were regularly seen on TV variety shows (mainly in Germany, Spain and UK) around the world. Baccara was a resident musical guests on the weekly "Sacha Distel Show" on BBC2 in UK and "Musikladen" in Germany.

Baccara also released a SP with a German version of "One, Two, Three, That's Life" called "Eins plus eins ist eins" - for the UNICEF "Year of The Child" in 1979.

Then, in 1981, things started to go wrong. Their new single "Sleepy Time Toy" had to be called back from the retailers, because Maria complained about her voice being underrepresented. Maria got a lawyer to represent her claim against the record company. She wanted the final mix to be changed. "I was really baffled and didn't know what was going on", says Mayte. "Because it was my voice that had carried BACCARA for most of the time. And that's the way it had been for years."

But it became more and more clear that there was no hope for a resolution with the record company and they stopped their collaboration with producer/composer Rolf Soja. BACCARA recorded a single "Colorado" and a fourth album, "Bad Boys" (RCA PL 28476) with another production team. The last (4th) album of "Old" Baccara was arranged by Bruce Baxter and with Graham Sacher as Producer. Both records flopped. By then, Mayte & Maria decided to go separate ways.

It was in 1981 and... this was The End!

Biography from czejarek.pl


Baccara (Ceadar Rerods, 1998)