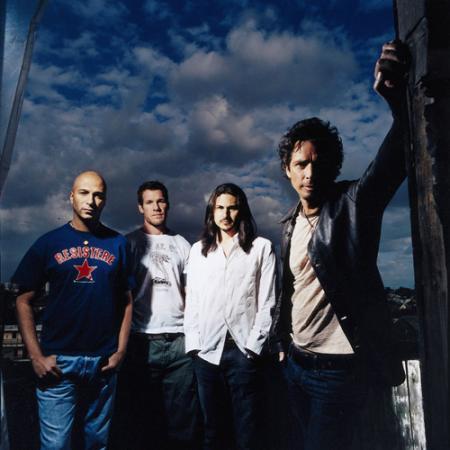 HISTORY
Audioslave is a rock supergroup consisting of Chris Cornell (former frontman of Soundgarden) and the instrumentalists of Rage Against the Machine, Tom Morello (guitar), Tim Commerford (bass), and Brad Wilk (drums). As with Rage Against the Machine, the band prides itself on the fact that all sounds are produced using only vocals, guitar, bass guitar, and drums, not keyboards, synthesisers, samples, etc.

FORMATION 2000-2001
The band's history dates back to October of 2000, after Rage Against the Machine broke up when lead vocalist Zack de la Rocha left the band. The other three members of the seminal hard rock band stayed together, planning to continue as a trio under the "Rage" name. Several vocalists jammed with the band at this time, including B-Real of Cypress Hill and Maynard James Keenan of Tool. Music producer Rick Rubin later suggested that they jam with Chris Cornell, formerly of Soundgarden, and "see what happens". The chemistry clicked between the singer and the three musicians, and they began work in the studio in May 2001, writing 21 songs in 19 days (the first of which was "Light My Way" and the third being "Set It Off").
2003-2004
Allegations that they argued during production are not entirely unfounded; the group broke up in April 2002, before they had even released an album. Under the tentative name "Civilian" (or "The Civilian Project"), 14 rough demo tracks were leaked onto various peer-to-peer filesharing networks around the same time as their pre-Audioslave breakup, confirming any rumors of the new RATM/Chris Cornell formation. The most notorious and well-known aspect of their temporary dissolution came that summer after the band cancelled their appearance in the popular, annual rock festival Ozzfest. Subsequent interviews with the band revealed that early problems had been partly due to external pressures which were resolved when the band members sacked their previous management companies and hired Los Angeles company The Firm. Once that was completed, the Audioslave moniker was chosen by the band, and in August 2002, Audioslave's first single, "Cochise", was released, named for the famous American Indian chief, the last to die free and unconquered. Later in the fall, they would go on to release their debut, self-titled album on November 19, 2002. The group's first studio album, Audioslave, drew mixed reactions from critics but has since attained triple platinum-selling status. Some lambasted the group as millionaire musicians who constantly argued during album production, and whose 1970s rock sound is primarily the result of post-studio modification. Others compared them to Led Zeppelin, saying they add much-needed sound and style to contemporary mainstream music. They toured extensively worldwide in 2003, silencing many critics and gaining largely positive reviews for their spectacular live performances, including overshadowing the headlining "reunited" Jane's Addiction at that year's version of Lollapalooza.
OUT OF EXILE 2004-2005
After spending some time off in 2004, they returned in fall of the same year to record the follow-up. In early Spring of 2005, Audioslave announced that their follow-up album was completed and would see release that summer. As a special treat to fans who did not see them on Lollapalooza, the band secretly booked a small club tour to promote their upcoming album. On this tour, the band began performing songs from their previous bands, including Soundgarden's "Spoonman", "Outshined", and "Black Hole Sun", Rage Against The Machine's "Bulls on Parade", "Sleep Now in the Fire", and "Killing in the Name" as well as several new songs, including "Your Time Has Come", "Be Yourself", "Doesn't Remind Me", "The Worm", and "Man Or Animal." While it was definitely a great experience for fans to see a multi-platinum selling band in venues so tiny, the downside was that many shows had sold out before they were technically even announced as happening. On May 31, 2005, Audioslave became the first American rock group to perform a concert in Cuba, playing for free in front of an audience of 70,000. The concert was organized with the joint authorization of the United States Department of the Treasury and the Instituto Cubano de la Musica. This concert was recorded, and released on DVD on October 11, 2005. It came in two versions, a basic package consisting of only the DVD, and a deluxe edition consisting of a DVD and a CD of the Sessions@AOL. Their second album, Out of Exile, was released on May 24, 2005. It debuted #1 on the U.S. charts, and featured the song "Be Yourself" as the leading single. "Be Yourself" was soon followed by "Your Time Has Come" and "Doesn't Remind Me", the latter given rave reviews and frequent radio airplay. Currently, the fourth single, "Out of Exile", is receiving moderate to high airplay on radio nationwide. The whole album was uploaded online at Audioslave's Myspace site for previewing. Critics did note Cornell's stronger vocals on Audioslave's second disc, likely the result of him quitting smoking and drinking. More recently, Audioslave performed at the Live 8 concerts. Their performance was in Berlin, Germany. On August 19, 2005, Audioslave announced their first-ever headlining arena tour across the U.S. and Canada. Audioslave were nominated for the 2006 Grammy Awards in the "Best Hard Rock Performance" category for their song "Doesn't Remind Me". In 2006, video game company Empire Interactive announced that two songs from Out of Exile, "Your Time Has Come" and "Man Or Animal", would be featured on its racing game, FlatOut 2.
REVELATIONS 2006 - PRESENT
The band wasted no time, soon recording their next album Revelations. They hired producer Brendan O'Brien, who had worked with acts including Rage Against The Machine, Soundgarden, Pearl Jam, Stone Temple Pilots, Incubus, and Bruce Springsteen. Audioslave had 20 songs written and returned to the studio in early January to finish recording them. As the bulk was sampled during their 2005 tour, the recording process took only 6 weeks. Revelations was released on September 5. The album is said to have a number of songs influenced by old-school R&B and Soul, with guitarist Tom Morello describing the album as a cross between Led Zeppelin and Earth, Wind & Fire. Several of the songs on the new album, such as "Wide Awake" and "Sound of a Gun", take a more overtly liberal political stance than previous Audioslave releases. "Original Fire" the first single from the effort, was directed by P.R. Brown between July 3-7 and released July 17. On July 11, the song was made available online on Audioslave's official website for free streaming. Two songs from the new album are prominently featured in Michael Mann's summer film, Miami Vice, and the title song "Revelations" is also featured on the soundtrack for the EA Sports football title Madden '07. With first-timer Wilk and Chris Cornell both having kids this year, Tom Morello told Launch Radio Networks that it's been difficult to plan a supporting tour for the new album: "Currently we've got, Chris has a brand new baby, Brad has a baby, so it's really more of a nursery than a touring apparatus right now," he said. "So I'm not certain, we don't have shows booked yet, but hopefully in the not too distant future we will."
SOLO PROJECTS
Lead singer Chris Cornell released a solo album, Euphoria Morning, in the midst between his leaving Soundgarden and forming Audioslave. Cornell recorded the theme song to the James Bond film, Casino Royale, and will provide a song for the upcoming Lionsgate thriller Bug. He will release his second solo album in 2007. Guitarist Tom Morello also performs solo under the name The Nightwatchman, though he has yet to release or announce a solo album. Recently announced on the official Nightwatchman page, Guitarist/Vocalist Tom Morello will release the first CD under the Nightwatchman moniker in the near future. Bassist Tim Commerford and Drummer Brad Wilk have recently been in the studio together recording some Bass/Drums only tracks. Currently there is no word on a CD release.