..:: audio-music dot info ::..

Atomic Kitten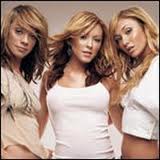 Atomic Kitten were an English girl group from Liverpool, first established in 1997. Created by Andy McCluskey, the final line-up, and most commercially successful, consisted of Natasha Hamilton, Liz McClarnon, and Jenny Frost. Heidi Range and Kerry Katona were two original members, however, they were replaced respectively by Hamilton in 1999, and Frost in 2001.
The band had three UK number one singles; "Whole Again" later recorded by Play, the fourth best-selling single by a girl group of all time; "Eternal Flame", a song originally recorded by The Bangles, and "The Tide Is High (Get the Feeling)", a song originally recorded by The Paragons and later by Blondie. They also had two UK number one albums, Right Now, a re-issue of their debut album, and Feels So Good, both going double platinum in the United Kingdom. Atomic Kitten also managed to gain numerous top ten hits across Europe (in particular German-speaking Europe), Asia, Oceania and South Africa.
The band announced they were splitting in April 2004 although they got back together a year later to re-release their single "Cradle", and also made one off appearances in 2006 and 2008.
Official Site: www.atomickitten.co.uk


The Collection (EMI, 2005)