..:: audio-music dot info ::..

Art of Noise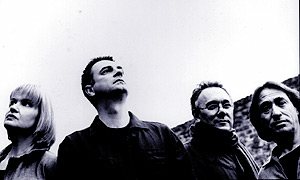 Art of Noise first appeared to appear in 1983, with a song in their heart, a beat in their soul, and an ignition key in their hand. Formed at a time when the reverberations of punk, post-punk and new wave could still be felt, they were determined to be a different kind of group, a group that set themselves outside the then currents of fashion and style, a group that were the missing link between The Monkees and Talking Heads, Abba and Kraftwerk, Frank Zappa and The Archies.

They took their name, like all the best pop groups from Soft Machine to The Velvet Underground, from a book - a book about Italian futurism. Influenced by the likes of Kraftwerk, John Cage, Marcel Duchamp, Terry Riley, Miles Davis, Todd Rundgren, Marvin Gaye and Tangerine Dream, they considered themselves futurists in the sense that they were interested in the future, in making the future a better place, in the technology of the future, in turning up in the future, in sounding like they belonged in the future.

At their first group meeting, on February 2nd 1983, they decided that they would never appear in their videos, they would not have a lead singer, they would never officially finish off a track, they would use technology to liberate the imagination, and they would be represented in photographs by spanners, roses and Sigmund Freud (Read into that what you will).

Part studio experiment, part pop group, part time, part play, part considerate, part pioneers, part theory, part science, part art, part of the brand new hyper Zang Tuum Tumb record label, their first record 'Into Battle' (1983) was a blueprint for everything they would get up to in the years ahead. A chopped, sliced and blended mix of dance, trance, new fangled samples, pith and improvisation, it was twenty odd minutes of musical puzzles, collaged collisions and rhythmical novelty. Critics and reviewers, faced with the faint facelessness of the group, the banging sorcery and ringing sourcelessness of the sound, hazarded guesses that the group were black Chicago House builders, or underground sonic surrealists from Berlin, or the missing link between Boney M and The Residents. In many ways, they may have been right.

'Into Battle' was seriously and playfully transformed into their first album, 'Who's Afraid Of The Art Of Noise' (1984). The album contained three songs that defined the early Art Of Noise sound - the antic fractured humour of 'Close (To The Edit)', the prototypical big beat of 'Beat Box' and the meditative might of 'Moments In Love'. Such songs ensured that Art Of Noise would head into the future: as direct and indirect influences on noisy artists from Mantronix to Moby, as a suggestion to Underworld, Daft Punk and The Prodigy how they might play at being absent and present pop stars, and of course as the musical choice Madonna made when she got married (Madonna walked down the aisle to the sound of 'Moments In Love'): The Prodigy sampled 'Close (To The Edit)' to help inspire their 'Firestarter').

On March 12th 1984, Art Of Noise had a meeting, and some members decided to see what it would be like if they became a more visible pop group. So a group that had five members then had three members: Trevor Horn and Paul Morley left, to appear behind other scenes, and Anne Dudley, Gary Langan and JJ Jeczalik disappeared into full view. The group signed to China Records, teamed up with Duane Eddy for a surfsonic version of 'Peter Gunn', and connected at the hip with Tom Jones for a hitsonic version of Prince's 'Kiss'. Their album 'In No Sense Nonsense' was greeted as an ambient classic.

And then they paused.

As they paused, various members swapped ideas and plans about the future - the future being their favourite place. At a meeting on August 22nd 1996, the three members of the group present at that particular meeting all decided that an idea to base an album around the music, life and times of the French composer Claude Debussy was just the strange and unexpected thing to get them back into the studio, their second favourite place. Trevor Horn, Anne Dudley and Paul Morley were joined in this meeting by Lol Crème, who just happened to be passing. During the meeting they decided that using Debussy as an inspiration was the most intriguing way to make up an album that celebrated and compressed 20th Century music - Debussy himself was a prime influence on 20th Century music from Duke Ellington to Miles Davis, from Bill Evans to Gil Evans, from The Carpenters to the Cocteau Twins, from Brian Eno to Bernard Herrmann. They would continue their big act of raiding the 20th Century by going back a hundred years to the music of someone who helped dream up the music of the 20th Century. And so Art Of Noise as a freshly formed four piece went into the studio to begin their Debussy project.

This has become 'The Seduction Of Claude Debussy', an album inspired by the romance, surprise, intelligence, radicalism, soul, modernist lust and sheer musicality of Debussy, inspired by the way he in turn was inspired by artists around him such as Baudelaire, Cezanne, Rimbaud, Verlaine and Picasso.

A logical and illogical progression from 'Into Battle' and 'Who's Afraid', the new album is driven by the same sense of skewed perfectionism, the same intoxicated concentration, the same need to experiment and the same belief in the mysterious power of melody and rhythm.

It is, they say, a soundtrack to a film that doesn't exist that was never made about the life and music of Claude Debussy, a soundtrack to the sensation of transferring from one century to another, a soundtrack to the idea that the future will be different. It is, they also say, pure fact, pure fantasy, thirteen songs of various length, recorded in technicolour, the missing link between Art Of Noise 1983 and Art Of Noise 2034, and the sound of a group who use the studio as a time machine.

They are joined on the album by actor John Hurt, who takes the dream role you might expect of Orson Welles, and who explains that Debussy was a cat-loving, paranoid, narcissistic genius - a star of his own making in his own time. Sally Bradshaw sings songs about life and death as they would be sung at the end of the nineteenth century and Rakim raps songs about mystery and desire as they should be sung at the end of the twentieth century. Donna Lewis guests as a dream singer and Carol Kenyon guests as a born singer.

At a meeting held on March 25th 1999, the day they finished the album, the members decided that a) they had finished b) the album was to be released on June 14th and c) seduction makes the world go round.

Art Of Noise are presently:
Lol Crème - guitar, voice and keyboards
Anne Dudley - piano, orchestral arrangements, voice and keyboards
Trevor Horn - bass, voice and keyboards
Paul Morley - metaphors, voice and keyboards

Art Of Noise's single, 'Metaforce', featuring your forecaster Rakim, is released on 14th June. A song about Charles Baudelaire, the weather, words, flesh, aroma and, metaphorically speaking, the art of noise, there will be various mixes including one by Roni Size (the size of a metaphor: mix) and another by Rhythm Masters (the beat of a metaphor: mix) in various orders and various lengths released at various stages.

Who's Afraid of the Art of Noise (ZTT, 1984)
"daft" (ZTT, 1984)
Below the Waste (China Records, 1989)
Drum and Bass Collection (China Records, 1996)
The Seduction of Claude Debussy (ZTT, 1999)
Reduction (ZTT, 2000)