..:: audio-music dot info ::..

The Apaches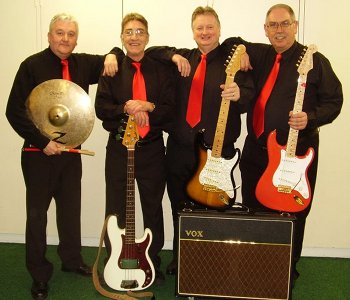 The Apaches got together due to their common interest in 'The Shadows'. All the members are seasoned musicians, have played in bands from the 60s onwards and experienced the early years of Rock'n'Roll at first hand.

Martyn originally came up with the idea of a Shadows tribute band and suggested this to John, knowing that he was also very much influenced by Hank B.Marvin.

They now had the 'Brian Bennett' and 'Hank Marvin' of the band and started to search for a 'Bruce Welch' and a 'Jet Harris'. It was some time later, and after trying out several guitarists, that they enlisted Dave to play rhythm. As a trio still missing a bass guitarist they eventually found and recruited Baz and the line-up was complete.

Now that the original 'Shadows' have completed their final(?) tour, 'The Apaches' are keeping the music and memories very much alive by playing a string of their hits with a style and sound that is as close to the original as possible. If you liked 'The Shadows' you will also very much enjoy the wonderful sound of 'The Apaches'.

The latest linup: John Parkes - Lead Guitar, Martyn Huskisson - Drums & Percussion, Ian Cross - Bass, Dave Pounder - Electric Guitar.

Homepage: www.sixtiescity.com



The Apaches play the Hits of The Shadows (Tring International, 1992)