..:: audio-music dot info ::..

Another Fine Day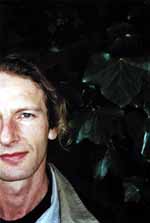 About Tom Green - composer, sonic instrumentalist, and the man responsible for...
another fine day

The Beach Boys classic Good Vibrations is responsible for a lot of things, and leaving aside all the mid-sixties references, let's consider the impact on a doctor's son from Dorset called Tom Green. The theremin wobbling weirdly out of the radio spoke of new possibilities, intricate sound worlds and a completely different aural space. At the same time it reminded Tom of all the weird sounds he had been surrounded by since birth: birdsong, wave-lap and the quiet wind-whisper in the long grass. To this day composer Tom Green works with the sounds of nature, sampled, modified, synthesised and combined with more traditional 'live' instrumentation and musical structures. He is a gifted multi-instrumentalist, noted for his skill on African thumb piano and his lazy jazz-inspired piano playing.

As a teenager Tom picked up the archetypal electro piece of kit, the Wasp synth, with its absurd array of sounds. By the early 80s Tom was in Brixton, deploying America's finest synthesisers to the sonic demands of Brixton's dub plates and learning lessons in fat bass frequencies. A lasting preference for polyrhythmic time signatures developed, thanks to a few years spent touring with Abdul TJ's African Culture. At the same time he dipped his toe in the commercial waters of 'production music' as a way of avoiding starvation while pursuing his own mojo. This was a lesson in what not to play, and provided a crash course in computer-based music systems and the harsh machinations of the music business.

As dance culture kicked off, Tom found himself inhabiting the strange and wonderful world of Dr Alex Patterson, aka The Orb. In 1988 Tom provided the east Africanesque foundation of Star 678+9 which came out on the seminal Adventures Beyond Ultraworld in 1991. Tom has continued to contribute sonic foundations for The Orb and is also working on Simon Phillips' (also of The Orb) burgeoning dub project Prayer Box.

In 1994 Tom recorded and released his first solo work as another fine day. Life Before Land, with its combination of sampled sound and organic instrumentation, is an acknowledged down-tempo classic, a sixty-four minute continuous mix over seven tracks. The album immediately caught the ear of Big Chill founder Pete Lawrence, who booked another fine day to appear at the first Big Chill, where he has appeared regularly ever since. (read Pete Lawrence's notes for 'Life before land' here)

For the next five years Tom honed his compositional skills, providing musical scores for Channel 4 and RTE whilst continuing to produce further African fusions for the likes of Baka Beyond. In 2000 he released his second another fine day album Salvage, an album which Tom describes as "Genre-popping 21st century eclecticism… feral children playing battery-powered synth bleeps while banging on tin cans… the urban fox's quiet step firing off forgotten sound-art installations… fallen power-lines generating wind harp bass drones, while an mbira troupe go into a trance". Salvage was launched at London's Institute Of Contemporary Art and released worldwide on Six Degrees Records. It was a critical success with US industry bible Billboard commenting that it "…sounds like a Parisian restaurant in outer space."

In 2004 Tom set up his own label (another fine label) and his website for Apollo Music, which will house his compositional library and enable him to engage in challenging musical, cinematic and artistic collaborations across the globe. Recent projects include the composition of 'generative ambient' music for the new MRI scanner at Bristol's St Mary's Children's Hospital. another fine label will release the new another fine day EP Chasing Tornados in December 2004. Life Before Land will be re-issued eleven years after its release in spring 2005. In the meantime Tom is writing his third another fine day album. Will it be ambient world? Dub-electro-jazz? Post-Modern Ironic Isolationist Techno Folk? Who knows? The only certainty is that it will be another fine day.



* * *



Another Fine Day

is the nom de plume of producer and multi-instrumentalist

Tom Green

, who made his entry into the electronic dance world with 1994's Life Before Land. A lengthy hiatus from solo recording followed, but Green kept busy with heavy involvement in releases by Baka Beyond (1995's Meeting Pool) and the Orb. Green's next release as Another Fine Day came in 2000 with Salvage, an album that sought to fuse African kalimba music, ambient-techno, and other compatible styles.



Steve Huey, All Music Guide.

Salvage (Six Degrees Records, 2000)