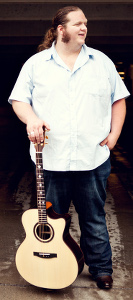 Matt Andersen is a Canadian blues guitarist and singer-songwriter, from Perth-Andover, New Brunswick, signed to True North Records. His musical career started in 2002, with the New Brunswick band, Flat Top. In 2004, Andersen played at the East Coast Music Awards (ECMAs). In addition to headlining major festivals, clubs and theatres throughout North America and the UK, he has shared the stage and toured with Randy Bachman, Bo Diddley, Little Feat, April Wine, America and Loverboy.

Andersen played over 200 live performances in 2009, including his fourth UK tour, and recorded a studio album (Piggyback) with harmonica player, Mike Stevens. He has performed at several of Stuart McLean's Vinyl Cafe shows across Canada, starting in 2009 and continuing into 2011. On January 25, 2010, Andersen won the top prize for a duo/individual in the Memphis, Tennessee, International Blues Challenge, beating artists from 11 other countries and five continents - the first Canadian to prevail over the event's 26 year history. Sponsored by the Harvest Jazz & Blues Festival in Fredericton, his prize included festival gigs in America, France and Italy, a slot on the Legendary Rhythm and Blues Cruises, as well as a cash award.

Touring the US, UK and Canada in 2010, he played over 25 theatre concerts in Ontario, British Columbia and Saskatchewan, and he also performed at the 50th anniversary of the Mariposa Folk Festival in 2010, a return after his 2007 showing. More honors came in January 2011, with the Maple Blues Awards Entertainer of the Year and Acoustic Act of the Year.

Andersen was nominated for four 2011 East Coast Music Association (ECMA) Awards: Male Solo Recording, Blues Recording, Fan's Choice Entertainer of the Year, and his DVD with the New Brunswick Youth Orchestra is up for DVD of the Year. He won the 2011 ECMA awards for Blues Recording of the Year for Piggyback, and the Konica Minolta Male Solo Recording of the Year for the same album. Matt is managed by Sonic Entertainment.