..:: audio-music dot info ::..

Albert Ammons, Pete Johnson, Meade Lux Lewis


Meade Lux Lewis

,

Albert Ammons

and

Pete Johnson

. The latter three joined forces in the late '30s, as the Boogie Woogie Boys, enjoying a four year residency at the exclusive clubs, the Cafe Society, Uptown and Downtown in New Yourk, into the '40s. Pete Johnson was often the accompanist of Big Joe Turner, a noted blues shouter. Thanks to jazz critic John Hammond, who promoted these artists, the boogie style enjoyed a brief vogue of popularity from the mid '30s through World War II.

Albert Ammons

was one of the big three of late - '30s boogie - woogie along with Pete Johnson and Meade Lux Lewis. Arguably the most powerful of the three, Ammons was also flexible enough to play swing music. Ammons played in Chicago clubs from the 1920s on although he also worked as a cab driver for a time. Starting in 1934 he led his own band in Chicago and he made his first records in 1936. In 1938 Ammons appeared at Carnegie Hall with Pete Johnson and Meade Lux Lewis, an event that really helped launch the boogie - woogie craze. Ammons recorded with the other pianists in duets and trios, fit right in with the Port of Harlem Jazzmen on their Blue Note session, appeared regularly at Cafe Society, recorded as a sideman with Sippie Wallace in the 1940s and he even cut a session with his son, the great tenorman Gene Ammons. Albert Ammons worked steadily throughout the 1940s, playing at President Harry Truman's inauguration in 1949; he died later that year. (Photo by Collection of Jean-Paul Amouroux)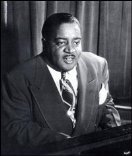 Pete Johnson

was one of the three great boogie-woogie pianists (along with Albert Ammons and Meade Lux Lewis) whose sudden prominence in the late '30s helped make the style very popular. Originally a drummer, Johnson switched to piano in 1922. He was part of the Kansas City scene in the 1920s and '30s, often accompanying singer Big Joe Turner. Producer John Hammond discovered him in 1936 and got him to play at the Famous Door in New York. After taking part at Hammond's 1938 Spirituals to Swing Carnegie Hall concert in 1938, Johnson started recording regularly and appeared on an occasional basis with Ammons and Lewis as the Boogie Woogie Trio. He also backed Turner on some classic records. Johnson recorded often in the 1940s and spent much of 1947-49 based in Los Angeles. He moved to Buffalo in 1950 and, other than an appearance at the 1958 Newport Jazz Festival, he was in obscurity for much of the decade. A stroke later in 1958 left him partly paralyzed. Johnson made one final appearance at John Hammond's January 1967 Spirituals to Swing concert, playing the right hand on a version of "Roll 'Em Pete" two months before his death. (Photo by Gottlieb)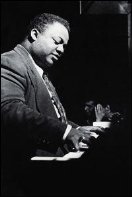 One of the three great boogie-woogie pianists (along with Albert Ammons and Pete Johnson) whose appearance at John Hammond's 1938 Spirituals to Swing concert helped start the boogie-woogie craze,

Meade Lux Lewis

was a powerful if somewhat limited player. He played regularly in Chicago in the late '20s and his one solo record of the time "Honky Tonk Train Blues" (1927) was considered a classic. However, other than a few sides backing little-known blues singers, Lewis gained little extra work and slipped into obscurity. John Hammond heard Lewis's record in 1935 and after a search found Lewis washing cars for a living in Chicago. Soon Meade Lux Lewis was back on records and after the 1938 concert he was able to work steadily, sometimes in duets or trios with Ammons and Johnson. He became the first jazz pianist to double on celeste (starting in 1936) and was featured on that instrument in a Blue Note quartet date with Edmond Hall and Charlie Christian; he also played harpsichord on a few records in 1941. After the boogie-woogie craze ended, Lewis continued working in Chicago and California, recording as late as 1962 although by then he was pretty much forgotten. Meade Lux Lewis led sessions through the years that have come out on MCA, Victor, Blue Note, Solo Art, Euphonic, Stinson, Atlantic, Storyville, Verve, Tops, ABC-Paramount, Riverside and Philips. (Photo by Zwonicek Collection)




© Scott Yanow, All-Music Guide

Boogie Woogie Boys (Magpie Records, 1938)