..:: audio-music dot info ::..

Amadinda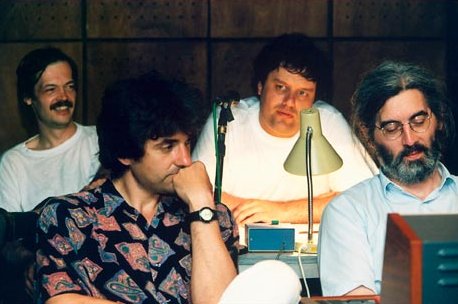 Amadinda Percussion Group has been formed in 1984 in Budapest by four musicians, just after having graduated from the Ferenc Liszt Academy of Music. When founding the ensemble central point of their activity has been double. On one hand to present masterpieces of percussion music, unknown to the Hungarian audience so far, on the other hand to perform the music of Hungarian contemporary composers in their country and abroad.
One of their principal intention is to inspire Hungarian and international composers to create new pieces. During the recent years three more new elements have been added to their aims: research of traditional percussion cultures, composing new pieces by the members of the group and transcribing outstanding pieces of music history for percussion instruments.
From the very beginning Amadinda has cooperated with world famous artists like John Cage, Bruno Canino, Peter Eötvös, Rosemary Hardy, András Keller, Zoltán Kocsis, György Kurtág, György Ligeti, András Schiff. Nowadays Amadinda is considered as one of the most original and versatile percussion group all over the world.


Awards:

1984 Darmstadt, Stipendium Prize
1985 Gaudeamus Music Competition Amsterdam, First Prize
1986 Prize of Hungarian Composers' Association for outstanding interpretation of Hungarian works
1987 Recording of the Year by Hungaroton
1988 Ferenc Liszt Prize by the Hungarian Government
1991, 1998 Prize of Society ARTISJUS Hungarian Bureau for the Protection of Authors' Rights
1997 Order of Merit of the Hungarian Republic
2002 Chevalier de l'ordre des Arts et des Lettres (Z. Rácz)
2004 Kossuth Prize by the Hungarian Goverment
Live (Quint Records, 1991)
Legacies - Hagyományok (Hungaroton, 1998)
Legacies 5: Amadinda & Friends (Hungaroton, 2004)