..:: audio-music dot info ::..

5th Dimension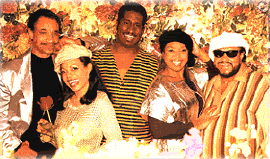 One of the most popular singing groups in the world, the classics of The 5th Dimension include such hits as "Up, Up, and Away," "Aquarius/Let the Sunshine In," "One Less Bell to Answer," "Never My Love," "Wedding Bell Blues," "Stoned Soul Picnic," "(Last Night) I Didn't Get To Sleep At All," "Blowing Away," "Workin' On A Groovy Thing," "California Soul," "Puppet Man," "Save The Country," "Sweet Blindness," "Carpet Man," "If I Could Reach You," "Paper Cup," "Living Together, Growing Together" and "Go Where You Wanna Go."
Original members Florence LaRue and Lamonte McLemore, along with Phyllis Battle, Greg Walker, and Willie Williams present a 5th Dimension Show and sound that is distinctly their own, featuring their hits and also new material. They headline regularly in Las Vegas and Atlantic City, and tour extensively in the United States, Europe, and Asia.
Formed as the Versatiles in 1965, the slick quintet changed its name at the request of Johnny Rivers, who had just signed them to his brand new label, Soul City. Up-and-coming songwriter Jimmy Webb supplied the group with their first pop smash "Up, Up and Away," in 1967, and the group's monumental rise mirrored the song's high-flying imagery. Another prolific composer, Laura Nyro, handed the 5th Dimension several megahits, notably "Stoned Soul Picnic" and "Wedding Bell Blues," but their biggest seller hailed from the groundbreaking musical Hair. The Grammy-winning "Aquarius/Let the Sunshine In" held down the number one slot on the pop lists for six weeks in 1969.
The members of the group are also doing solo projects but will always perform regularly with the group. The Original 5th Dimension did occasional reunion concerts through the 90's but decided toward the end of the decade to call it quits. The 5th Dimension, however, continue to perform with symphonies, on luxury cruises and all over the world to satisfy their many fans. Their career seems to always be Up Up & Away!
5th Dimension members are:
Florence LaRue - original member
Lamonte McLemore - original member
Phyllis Battle
Greg Walker
Willie Williams
Respect - Live [Original/Live Recordings] (Elap Music, 1995)
The very best of the 5th dimension (BMG, 1999)